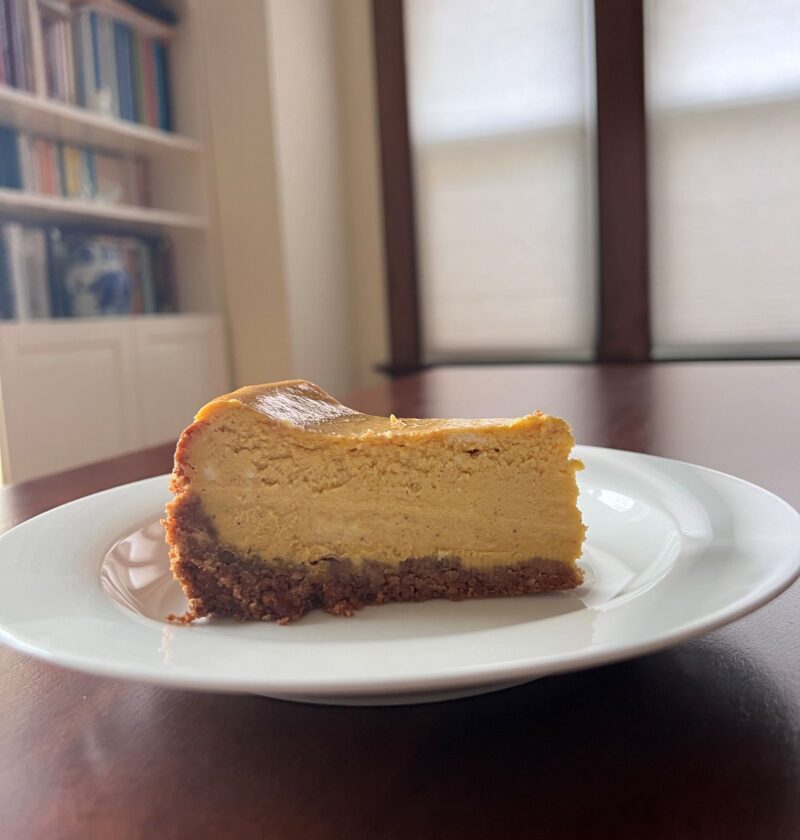 Yields:

12 Servings
Difficulty:

Easy
Prep Time:

15 Mins
Cook Time:

1 Hr 30 Mins
Total Time:

1 Hr 45 Mins
This recipe for Pumpkin Cheesecake by Emeril Lagasse came to me by chance. I was immediately drawn to it in one of my feeds for its simple ingredients and easy-to-follow steps.  I knew right away that I could bake this cheesecake with ease and decided to give it a try.
The result exceeded my expectations. This is by far one of the best-tasting cheesecakes I have ever made. Soft and silky texture pairs with perfectly flavored and non-crumbly base. I appreciate how well the bottom works with the cheese.  It does not stick to the pan or break, and it is perfectly crunchy without being hard or dry.
The combination of cream cheese and canned pumpkin is ideal. Loved by all who tasted it.  Absolute hit in my home. It's incredibly easy to make, even if you're new to baking.  Perfect for a weekend dessert or special occasion, and is a great substitute for pumpkin pie. You can serve it alone or with a side of vanilla ice cream or whipped cream.
After making it several times, I made a few small tweaks: I reduced the original amount of sugar from 1 1/2 cup to 1 1/4 cup and omitted adding cinnamon (1/2 tsp) to the cheese filling.
I also bake it for a little longer and basically stop when the middle of the cheesecake becomes almost completely firm.
For reference, here is the original recipe.
You can also check out my other cheesecake recipes.
No Bake Cheesecake With Peaches
No Bake Chocolate-Vanilla Cheesecake
Preheat oven to 350F. Melt the butter; set aside. In a medium bowl, combine graham cracker crumbs, ground pecans, brown sugar and 1/2 tsp of cinnamon. Add butter and stir well until fully incorporated. Using a 9-inch spring form, press the crust mixture firmly to its bottom. Make sure to bring it a little up the sides of the pan (1/2-1 inch). Bake the crust until lightly golden (8-10min.). Remove it from the oven and cool slightly.

Reduce the oven temperature to 325F. Using a hand or stand mixer set on low, beat the cream cheese (room temperature), sugar, cornstarch, nutmeg, and vanilla. Continue mixing until the batter becomes smooth and fluffy. Scrape the sides of the bowl as needed. Add eggs and egg yolks and mix until just combined. Pour in pumpkin purée and cream. Continue mixing until combined.

Spread the batter evenly on top of the crust. Place it on the baking sheet. Bake until the center is almost set (not too jiggly), 1:30 to 1:40 min. Cool the cheesecake on the wire rack (15 min) Run a knife between the cake and the sides of the pan. Remove the sides of the spring form and cool completely. When cool, cover with a plastic wrap and refrigerate. The cheesecake needs to be chilled for at least 4 hours before serving.