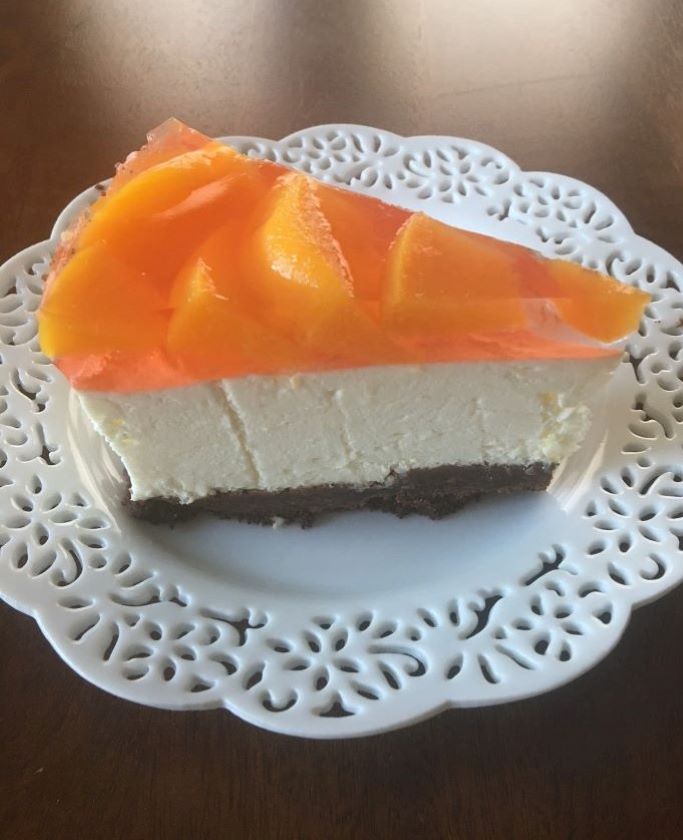 Yields:

1 Serving
Difficulty:

Medium
Prep Time:

20 Mins
Adjust Servings
Graham cracker crust.

Filling.

Top
To prepare the 9 inch springform pan, place it on a piece of parchment paper. Outline the shape of the bottom of the pan and cut it out with scissors. Line the bottom of the pan with the parchment. In a food processor pulse the graham crackers until completely crushed. Add melted butter and continue pulsing until the mixture resembles wet sand. Place the mixture at the bottom of the springform (on top of parchment paper) and, using your fingers, flatten it out evenly. The crust should fill out the whole bottom but not the sides of the pan. Set aside.

Using a clean bowl of the food processor, add cream cheese, confectioner's sugar, lemon juice and lemon zest. Mix until well blended.

In a small pan add 2 envelopes of gelatine and about 100ml/less than 1/2 cup of cold water. Stir and let rest for 10 min, until it plumps up. Warm up the gelatine in the microwave or on the stove until it turns into a liquid. Be careful not to boil it. If you do, gelatine will loose its gelling qualities and you will need to replace it. Let it cool slightly. Mix the gelatine liquid with yogurt. Stir well until no lumps are visible. Add filling to the cream cheese and mix well.

In a separate bowl, using a hand mixer, whip heavy cream until stiff peaks form. Make sure not to overbeat the cream because it will become lumpy and butter-like. Using a spatula, fold the whipped cream into the cream cheese filling. Spread the filling on top of graham cracker crust, cover the spring form with a plastic wrap and cool in the fridge for a couple of hours. The filling will become firm and springy when touched with a finger.

Prepare the Jell-O according to instructions but using only half of the water listed on the box. Let it cool. Take the cheesecake out of the fridge. Neatly arrange all the peach slices on top of the filling. You might need to cut each slice lengthwise in half. Pour cool Jell-O on top of the peaches. Refrigerate overnight. This cake will keep well in the fridge for up to one week.
Notes
Any fruits fresh or canned can be used for this recipe. Only fresh kiwi or fresh pineapple will not work with the Jell-O as it will prevent it from firming.
Crust can be made with Ladyfingers biscuits instead of graham crackers. Use 150gr. of  Ladyfingers.