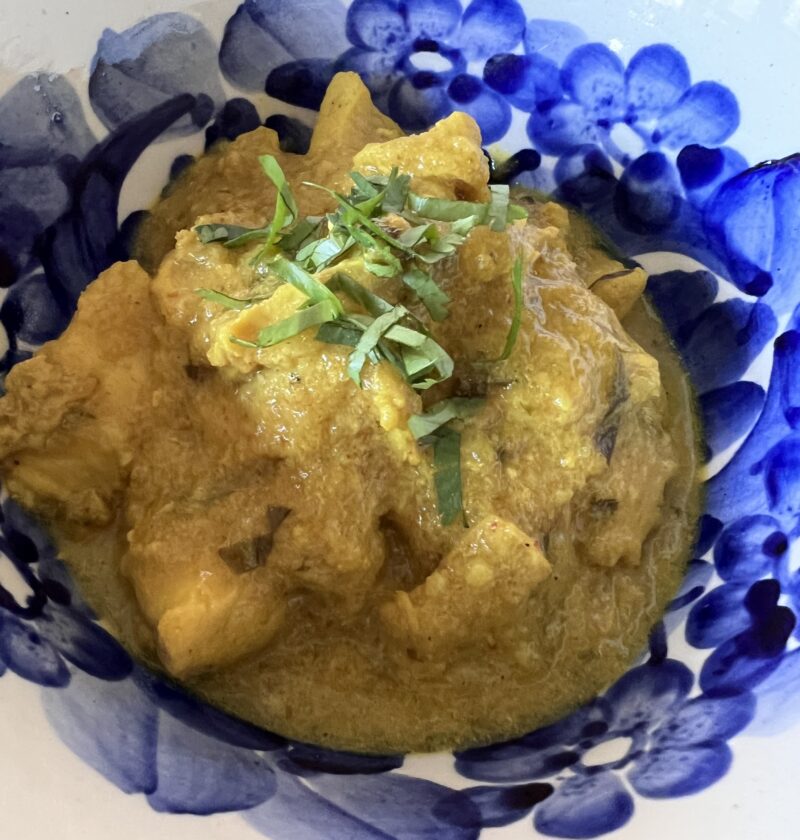 Yields:

1 Serving
Difficulty:

Easy
Prep Time:

15 Mins
Cook Time:

20 Mins
Total Time:

35 Mins
The Thai Mango Chicken Curry dish came out of my love for mangoes. They are accessible, relatively inexpensive, and available throughout the year. In season from May to late August, they provide a super fresh, enjoyable flavor. The taste is always great and the benefits of eating them are significant as they contain vitamins C, A, antioxidants, and dietary fiber.
For this recipe, either fresh or frozen mangoes can be used. Prepping and cooking is very fast, but the meat needs to marinate for at least one hour before cooking. Also, if frozen mangoes are used, they need to be thawed before puréeing.
This is a fast weekday dinner recipe. The marinade can be prepared in the morning or the night before. The dish will be ready to eat within half an hour from the start of cooking.
The taste of my Thai Mango Chicken Curry is delicious and original – quite easy on the picky eaters!
Here are some other curry dishes I make:
Assemble the marinade. In a large bowl, whisk together Greek yogurt, curry paste, grated ginger, minced garlic, turmeric, cumin, and salt. Prepare the chicken by cutting it into bite-size pieces. Add chicken to the marinade, mix well, and let rest in the fridge for at least one hour.

If using frozen mango, defrost it completely. For fresh mangoes, peel and cut them into medium size pieces. Purée mangoes until smooth. Set aside. Slice the onion and red bell pepper.

In a large skillet, add vegetable oil. Turn the heat to medium. Let the oil warm up. Add onions and sauté until soft and glistening (about 5-7 min). Stir in the chicken mixture and let it cook for 5-10 min, until everything is cooked through. Add the red bell pepper, puréed mango, and coconut milk. Stir well, lower the heat, and simmer uncovered for 15-20min. By this time, the sauce should thicken slightly. Garnish with cilantro and serve over rice with lemon or lime wedges on the side.