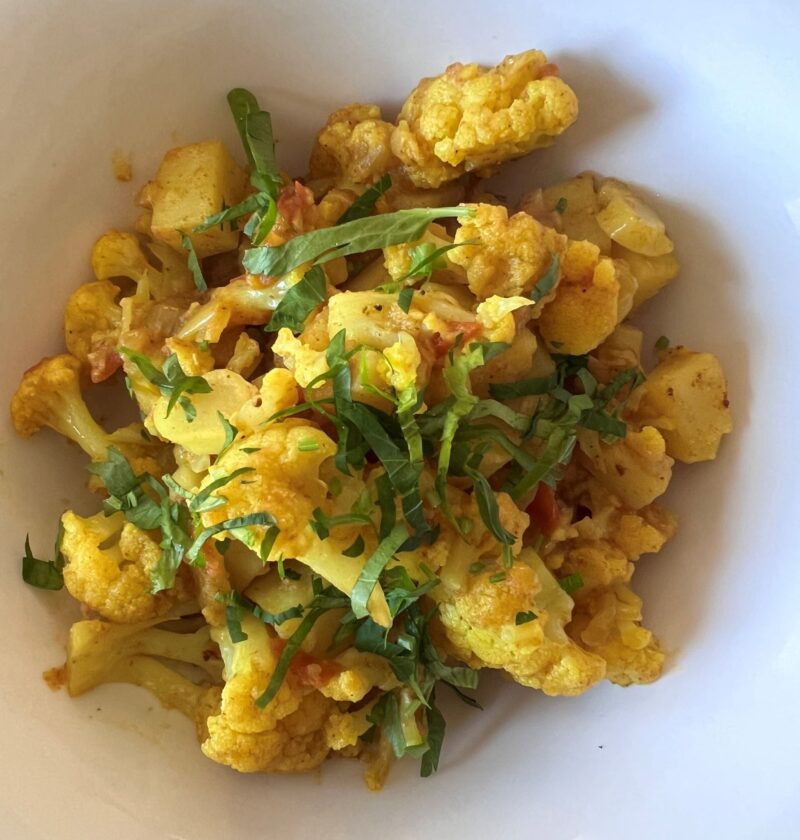 Yields:

5 Servings
Difficulty:

Easy
Prep Time:

10 Mins
Cook Time:

20 Mins
Total Time:

30 Mins
Aloo Gobi translates to potato (Aloo) and cauliflower (Gobi) curry. There are different versions of Aloo Gobi. This recipe makes a Punjabi style (North Indian) dish, which means that there is no sauce, and the vegetables are sautéed with oil in their juices and with spices.  This curry is easy and quick to make; the most work is in prepping. The final dish provides soft (not mushy) vegetables flavored with delightful Indian spices.
I am fascinated by Indian cuisine, and I am truly in love with their vegetarian dishes. To me, cauliflower is not easy to incorporate into everyday cooking. In my opinion, it is bland and not very attractive. This recipe makes it irresistible.  Aloo Gobi can be eaten as a main dish with Naan or rice. It also pairs well with Indian meat curries. I enjoy eating it cold (on the second day) as my lunch.
Here are some of my Indian meat favorites:
In a non-stick large pan with a fitting lid, heat oil. Add ground cumin (or cumin seeds) and let it sizzle for about 30 sec. Add diced onion and sauté until soft and translucent.

Add garlic and ginger and stir and cook for 30 sec. Add diced tomato, salt, and spices (coriander, cumin, turmeric). Continue cooking until tomatoes become soft and juicy.

Add potatoes, cauliflower and diced chili pepper. Stir and lower the heat to medium-low. Cover tightly with a lid and let cook for about 20 min. Check on the vegetables once or twice, stirring them delicately. There should not be a lot of liquid in this dish. The vegetables will cook in their juice and absorb most of it.

When the vegetables become tender and all the moisture is gone, add garam masala, tamari, and lemon juice. Stir the dish gently and check for seasoning. This is the time to add chili powder and ground pepper. Turn the heat off. Garnish with fresh cilantro and serve.
Notes
A lot of recipes use coriander seeds, when sautéing the onions. I prefer ground coriander. Do not overcook this dish. Potatoes and cauliflower should become tender (almost no resistance when pierced) but not mushy. The vegetables need to cook only in their own juice. If it happens that there is not enough of it, add 1-2 tbsp of water.