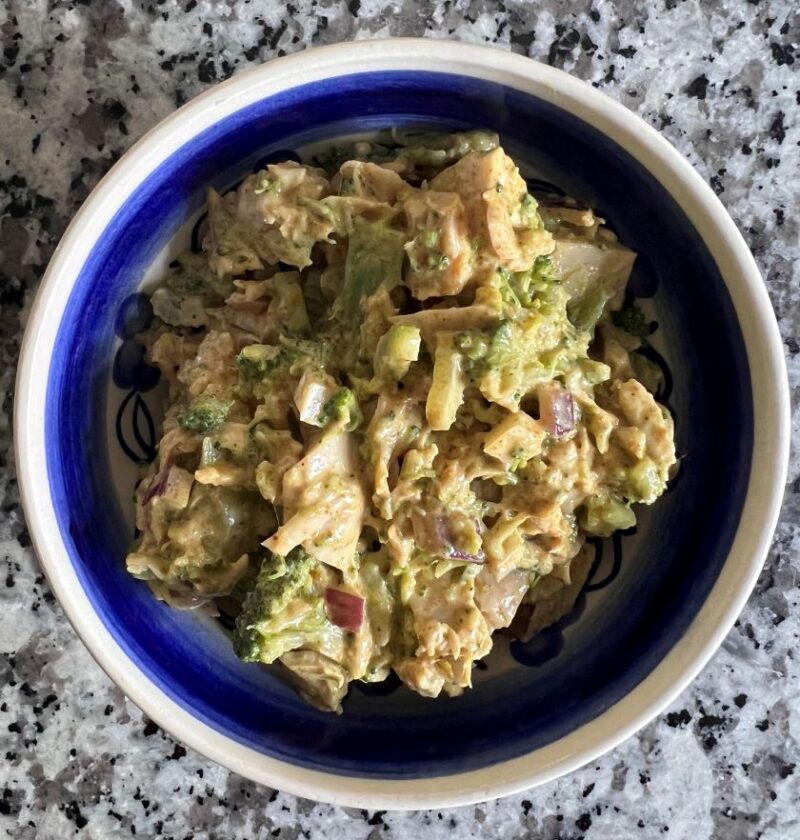 Yields:

8 Servings
Difficulty:

Easy
Prep Time:

10 Mins
Cook Time:

1 Hr
Total Time:

1 Hr 10 Mins
This is my most favorite curried chicken salad recipe. The dressing is delicate with a hint of sweetness. A simple addition of celery, red onion and steamed (or blanched) broccoli pieces add texture and crunch. In my opinion, chicken salad should always taste like chicken. The additional ingredients' role is to enhance flavor and add variety of texture. This salad is perfectly balanced and can be served on a bed of greens dressed with balsamic vinaigrette. You can also toss a few slices of cucumber, tomato and a handful of shredded carrots.
Balsamic Vinaigrette
Adjust Servings
Curried Mayonnaise Dressing
In a medium pot filled with water, cook chicken breasts until they are soft and falling apart when pricked with a fork (about one hour). Let them cool a little and either shred them or cut them into small bite-sized pieces. Set aside. Save the broth. It can be frozen and used later in soup or sauce.

Steam or blanch broccoli pieces. Let cool. Slice the celery thinly and dice a small red onion. Set aside.

Mayonnaise Dressing

Combine curry powder and vegetable oil. Add mayonnaise, honey, lemon juice, mango chutney and mix well by hand. Season with salt.

Assembly

Mix chicken and curried mayo dressing until well incorporated. Add vegetables and stir gently.