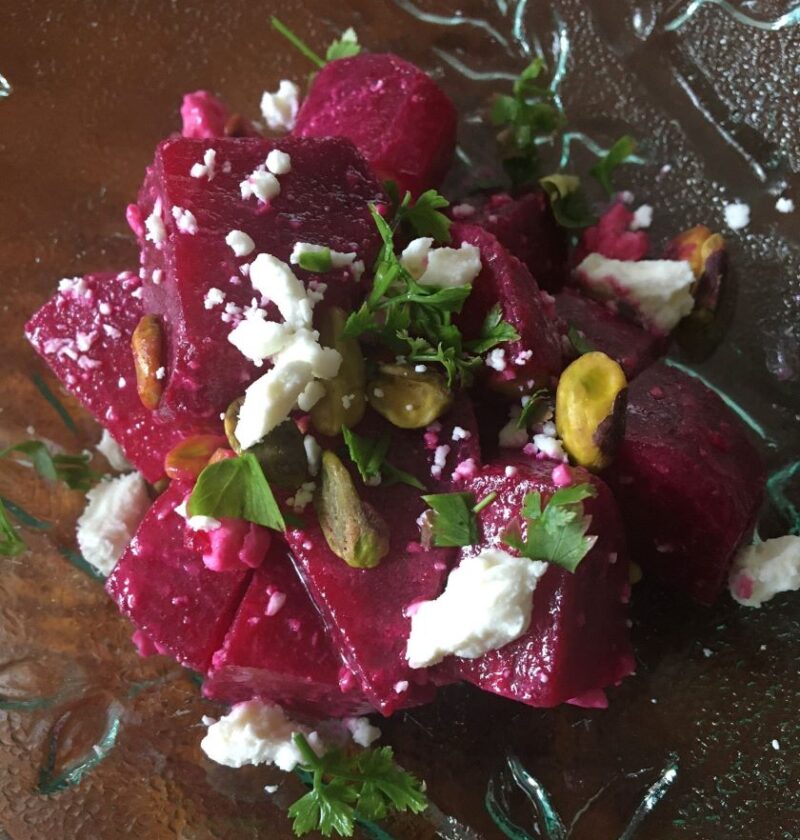 Yields:

1 Serving
Difficulty:

Easy
Prep Time:

5 Mins
Cook Time:

1 Hr 30 Mins
Total Time:

1 Hr 35 Mins
Line a baking dish with a parchment paper. Place all beets on it and bake for 1.5 hours in 450F oven. Let cool and peel.

Cut the beets into half inch squares. Taste them to determine how sweet they are. If they are not too sweet, add a pinch or two of sugar. While they are still warm add olive oil, balsamic vinegar and a pinch of salt to elevate the flavor. Let the beets cool in the fridge. Add pistachios, parsley and blue cheese. If using goat cheese, sprinkle the salad with a little bit of black pepper, it adds sharpness to the overall flavor.

Cool the salad in the fridge. Right before serving, taste it and adjust seasoning. Sprinkle with more cheese and parsley. Serve cold.
Notes
Be very careful with all the seasonings. The amounts depend on the sweetness of the beets.