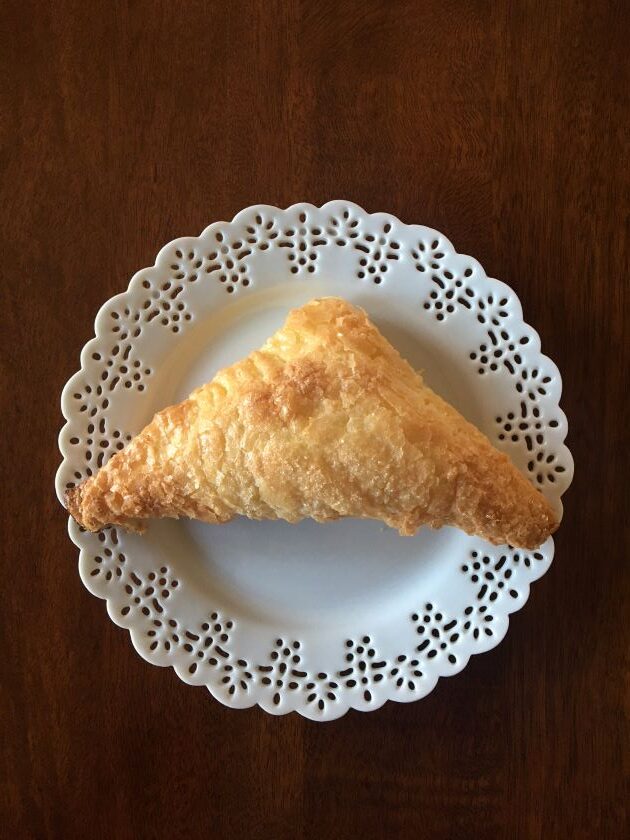 Yields:

8 Servings
Difficulty:

Easy
Prep Time:

15 Mins
Cook Time:

20 Mins
Total Time:

35 Mins
Take the puff pastry out of the freezer and let it defrost. Preheat the oven to 400F.

Peel the apples. Cut in half and using melon baller tool take out the core of each apple. Small dice all the apples and sprinkle with juice of 1/4 of a lemon. This will prevent apples from turning brown and it will provide a nice hint of tartness. In a medium frying pan set on high heat, dissolve butter, add apples, sugar and 2 tbsp of water. Let them roast until the juices evaporate. Add 2 more tbsp of water and stir. Let roast uninterrrupted until water evaporates, add last 2 tbsp of water, stir and roast until soft but keeping shape. Cool the apples.

Unfold defrosted puff pastry. Spread one sheet on a flour dusted surface. Using a rolling pin, smooth it out gently, making it a little bit thinner (more flexible). Cut the sheet in four. Prepare the egg wash. Using fork, beat one egg and one tbsp of cold water. Start assembling turnovers. Spread 2 tbsp of roasted apples in the middle of the square. Using a pastry brush, spread a little bit of egg wash on two sides of the puff pastry and fold it over. This will ensure good sealing of the pastry. Using fork, press along the folded sides to completely close (seal) the triangle. Continue with a second sheet.

Prepare a large cookie sheet by covering it with parchment paper. Generously sprinkle each turnover with sugar. Place them side by side on a baking sheet, making sure they do not touch each other and there is a little space between them. Bake in a preheated oven for 20 min. or until all the pastries turn golden. Cool and enjoy.
Notes
To keep the apple pieces from becoming mushy, roast them on a high heat without stirring too frequently.