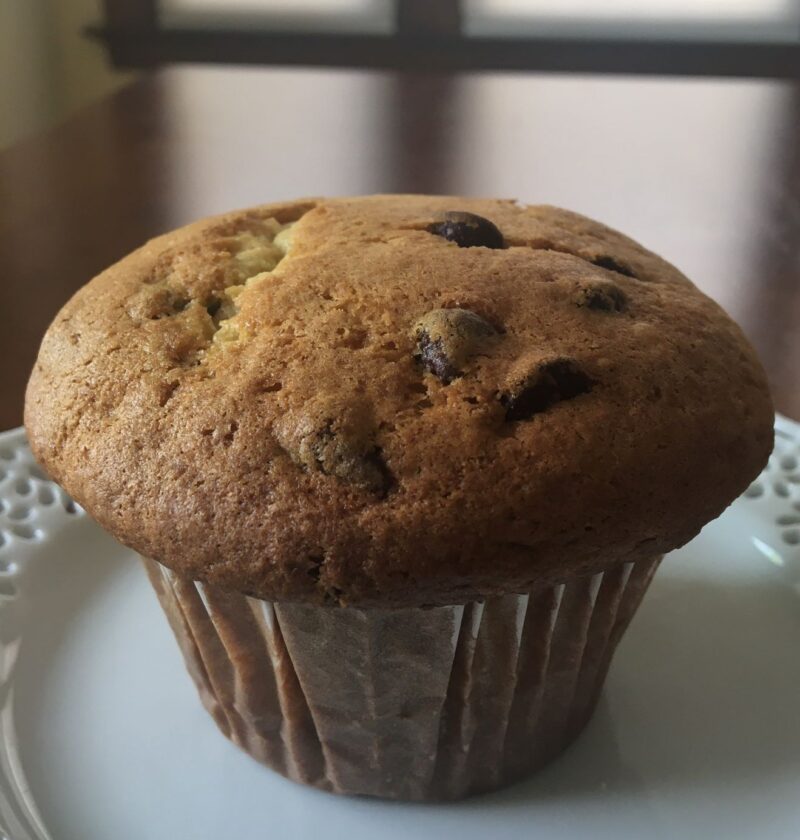 Yields:

6 Servings
Difficulty:

Easy
Prep Time:

10 Mins
Cook Time:

25 Mins
Total Time:

35 Mins
Start with taking butter, eggs and buttermilk out of the fridge and letting them warm up to a room temperature. This step is necessary for the proper raising of the muffins. Preheat the oven to 425F.

In a large bowl add butter and sugar. Using an electric mixer, cream them until light and fluffy and bright in color. Add vanilla. Then one by one add eggs, mixing after each addition. Continue mixing until all is well blended.

In a separate bowl sift together flour, baking powder, baking soda and salt. Set your mixer on low and add (to the butter/sugar mix) 1/3 of flour mixture + 1/3 of buttermilk. Mix lightly, only until combined and repeat the process two more times. Do not over-mix. Fold in 1 cup of semisweet chocolate chips. Let the butter rest for 10-15 min before baking. This will relax the gluten and make rising easier.

Prepare a large muffin tin. Line it up with paper liners. Fill them all the way with muffin batter and top with more chocolate chips if desired. Bake in 425F oven for 5 min then lower the temperature to 400F and bake for an additional 20 min or until golden brown. Check for readiness by inserting a wooden toothpick all the way into one of the muffins. They are ready when the toothpick comes out dry.
Notes
To assure the quality of texture and rising of the butter do not omit using the ingredients that are room temperature. Resting the butter before baking is just as important.
Starting the baking process with a higher temperature (425F) lets the tops rise faster and wider. Make sure to lower the temperature to 400F after the initial 5min. Otherwise your muffins will burn.
Here is My favorite Jumbo Muffin Pan (paid link)