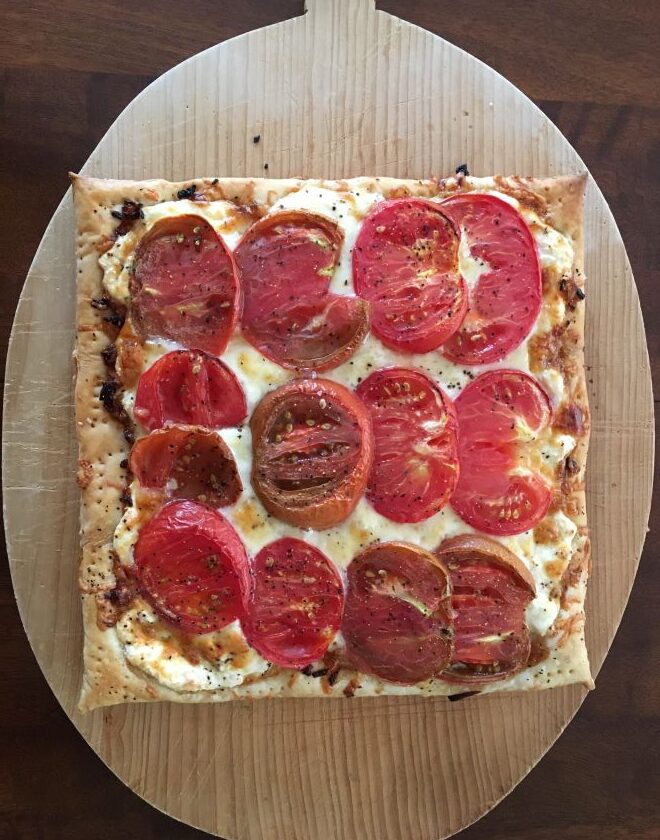 Yields:

4 Servings
Difficulty:

Easy
Prep Time:

15 Mins
Cook Time:

30 Mins
Total Time:

45 Mins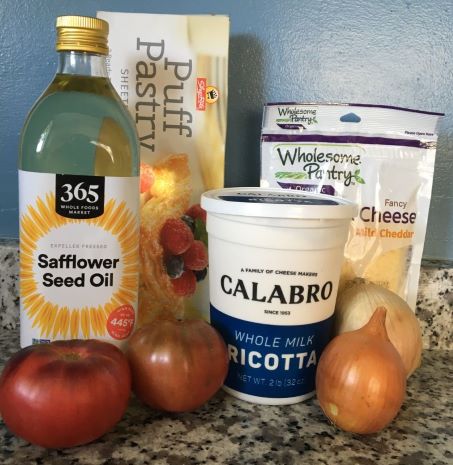 Start with preheating the oven to 400 F. Cut out a piece of parchment paper that fits your baking sheet. Set the paper aside. Place the baking sheet (without the parchment paper) inside the oven while it is warming up. You will be later putting your assembled tart on this warm baking sheet. This will guarantee that the tart will have a nice, crispy bottom.

Peel and dice the onions. In a non stick skillet, heat up two or more tablespoons of vegetable oil. Add the onions and cook until soft and starting to glisten. Add one tablespoon of water and a generous pinch of sugar, stir and continue frying. At this point you will need to stir frequently. If the onions become dry and some start to burn, add additional tablespoon or two of water. Lower the heat and continue cooking until all the onions become caramelized (dark in color). Move them to a separate plate and let cool completely.

Slice the tomatoes (about 12 slices). Spread them, sprinkle with salt and pepper and cover with a paper towel. Gently press on them to let the extra moisture be absorbed by the paper. Leave covered for a couple of minutes.

Take thawed but cool puff pastry sheet and spread it on a precut parchment paper. Using fork, prick the pastry all over. This will let the steam escape while baking and will ensure even rise.

Assemble the tart. Scatter onions evenly all over the pastry, leaving a 1/2 inch of the edges bare. Using tablespoon, place dollops of ricotta cheese on top of the onions. Season with salt and pepper. Do not smooth out. Sprinkle the yellow cheese. Top with tomato slice previously seasoned with salt and pepper.

Transfer tart (on parchment) onto the preheated baking sheet. Place into the 400 F oven and bake for 25-30 min. or until the edges are golden brown.

Remove from the oven and let cool for a couple of min. Sprinkle with basil (if using).