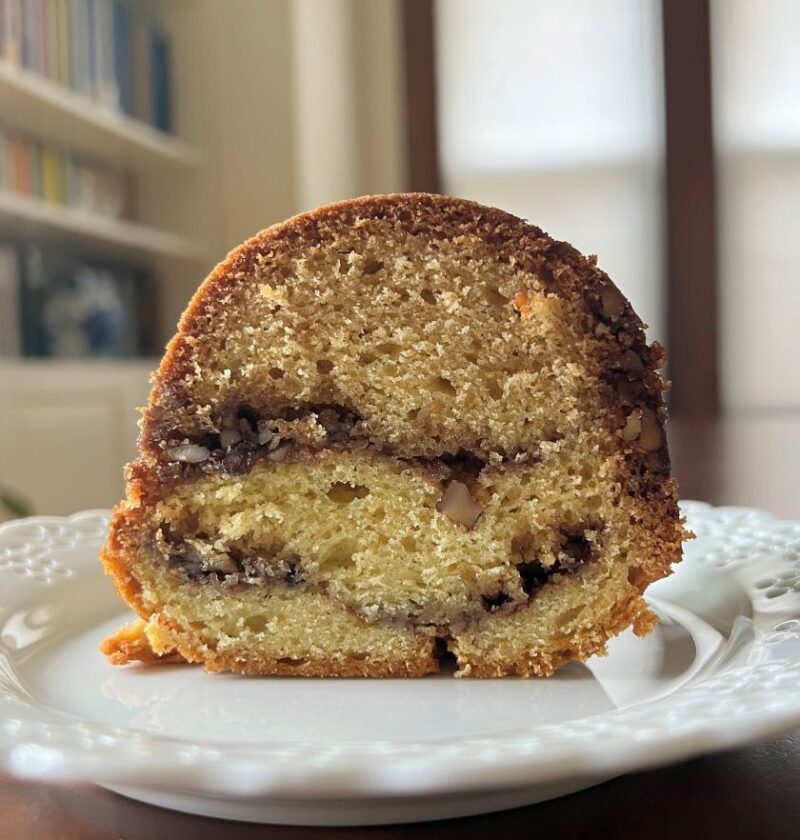 Yields:

1 Serving
Difficulty:

Easy
Prep Time:

10 Mins
Cook Time:

1 Hr
Total Time:

1 Hr 10 Mins
Adjust Servings
Between layers of batter.
Preheat oven to 350F. Butter a tube pan and dust it with flour. Set aside.

In a large mixing bowl, using a hand mixer, mix butter and sugar until light and fluffy. Add eggs, one at a time, and continue mixing. Add sour cream and vanilla and blend well.

Sift together flour, baking powder and baking soda. Add to the wet ingredients and continue mixing until no lumps are visible.

Chop nuts and mix them with cinnamon and brown sugar. Set aside.

Line bottom of tube pan with one third of batter. Sprinkle with half of the nut mixture. Repeat with another third batter and the remaining nut mixture. Cover with the last third of batter.

Bake for one hour or until brown with center firm to touch. Let cool for 10-15 min. Shake free from sides and flip upside down onto a serving platter.
Notes
This cake freezes very well and is perfect served with coffee, tea or a glass of milk.