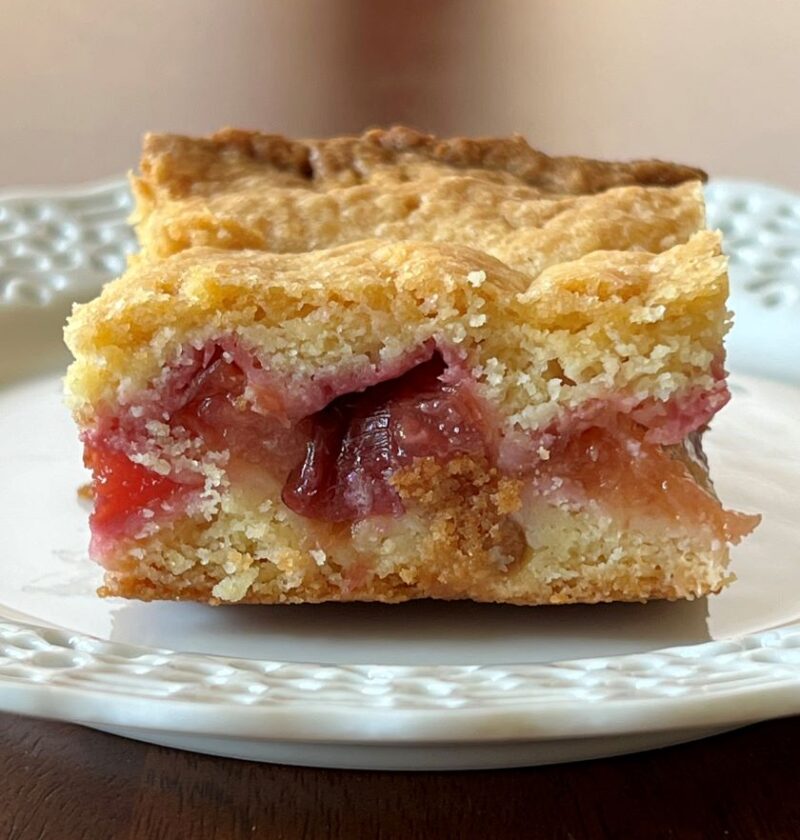 Yields:

1 Serving
Difficulty:

Easy
Prep Time:

15 Mins
Cook Time:

1 Hr
Total Time:

1 Hr 15 Mins
Wash the plums. Cut them in half, remove the pits, then slice thickly. Set aside.

Prepare your 9"x13" baking dish by greasing it generously with extra butter.

Sift the flour and combine it with baking powder. Cut the butter into small pieces and add them to the flour together with the rest of the ingredients. Make sure butter, eggs and sour cream are at room temperature before mixing with the flour. Using your hands, start kneading the dough. Keep at it until all the ingredients mix together and no lumps are visible. The final product should be smooth and lightly sticky. This will not take more than 5 min. Cut the dough in half.

Slightly flour the surface you are working on. Using a rolling pin, start rolling one half of the dough until it resembles the bottom of your baking dish. If the dough sticks to the pin, sprinkle it with a little bit of flour. To transport the rolled out dough, simply roll it around the pin.

Fit the dough into the dish by gently unrolling it. Using a fork, press the sides to make them look more uniformed. They do not have to be perfect as they will be covered with the top layer of the dough.

Take the prepared plums and fit them tightly in rows throughout the baking dish.

On a slightly floured surface, roll out the second half of the dough. When it reaches the size of the baking dish, transport it the same way as before. Unroll it slowly on top of the plums, starting at the bottom of the pan. Tuck in the ends that are too long.

Bake in a 350F oven for one hour or until the cake is golden in color.
Notes
This is a cake I grew up with and learned how to make when I was a child. It will work well with strawberries, peaches or apples instead of plums. The recipe does not require any experience in baking.
My favorite dish to bake this cake in is: Pyrex baking dish (paid link). It comes with a cover for convenience.