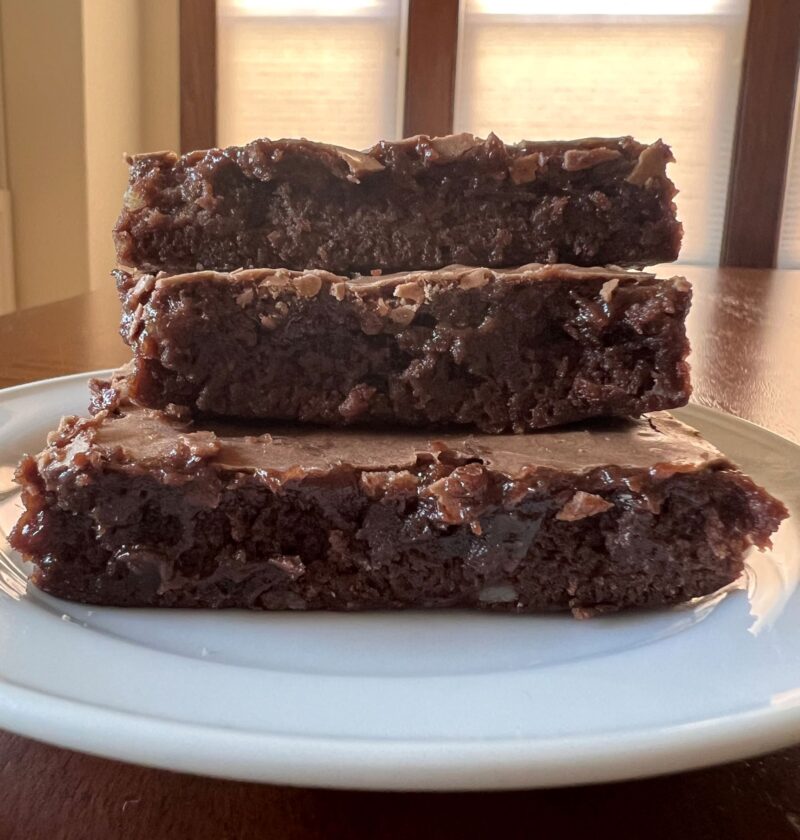 Difficulty:

Easy
Prep Time:

10 Mins
Cook Time:

30 Mins
Total Time:

40 Mins
Old-fashioned brownies are based on the recipe from the 1952 edition of "Joy of Cooking". My family loves this cake and calls it "the best brownie we ever ate". These "fudge squares" (as they were also called) are irresistibly chewy and delightfully chocolatey. This is as a result of the recipe using a significant amount of butter and real chocolate.  The preparation is very quick and the batter should be baked in a shallow (9×13 inch) pan.  The cake is not tall but it produces a natural crust. When it is cold, it needs to be cut into squares. The original recipe suggests 1 x 2 inch bars (54 in total).
When I first used this old-fashioned brownie recipe, I had no expectation of loving it more than modern adaptations. I was curious and wanted to see the difference in style between generations of bakers. I was smitten with the result and will keep making it.
If you crave more old-fashioned recipes with chocolate, please try my no bake chocolate-vanilla cheesecake.
Preheat oven to 325F. Grease and flour a 9x13 inch pan. Use about 1 tsp of flour on a greased pan and make sure the surface is coated evenly with a thin layer of flour. Shake off the excess flour. Using a meat mallet, crush the pecans into small/ fine pieces. You can also chop them with a knife.

In a small saucepan melt butter and chocolate. Set aside to cool. In a large bowl, crack eggs, add salt, and beat them with a hand mixer until they are light and frothy. Gradually add sugar and continue beating until the mixture becomes light in color and creamy in texture. Slowly fold in (using spatula) melted and cooled butter and chocolate. Add 1 tsp of vanilla.

Sift 1 cup of all-purpose flour. Add flour to the mixture. Continue mixing until just smooth. Fold in nuts. Pour the batter onto the baking pan. Bake for 30min. Let cool completely. Cut into squares of desired size.
Notes
Here is my favorite chocolate used for this recipe.