Yields:

10 Servings
Difficulty:

Easy
Prep Time:

15 Mins
Cook Time:

1 Hr
Total Time:

1 Hr 15 Mins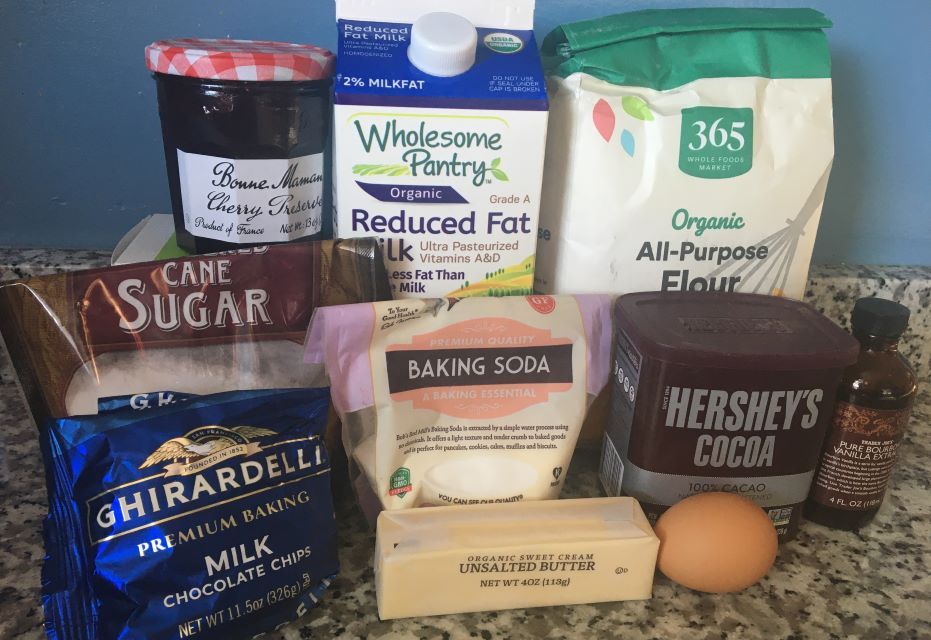 All the ingredients should be at room temperature. In a medium bowl mix flour, baking soda and cocoa. Set aside. In a separate large bowl beat butter and sugar until light and fluffy. Add an egg, jam and vanilla extract and mix well.

Alternating wet and dry ingredients, mix in (in small amounts) flour and milk. Do not overmix. Stir only until all the ingredients are combined. At the end add chocolate chips and stir gently.

Grease the 9 x 5 loaf pan with soft butter. Additionally, either sprinkle it with plain bread crumbs or cut an overlapping piece of parchment paper and line the pan with it, making sure that longer ends stick out of the pan.

Pour the cake batter into the pan. Smooth out the top and bake in 350F (preheated) oven for about 60min or until the toothpick inserted into the center of the cake comes out dry. While the cake is cooling, make the glaze. In a small pan warm up the heavy cream (until almost boiling). Turn off the heat. Add pieces of chocolate and stir until they completely melt and incorporate into the cream.

Take the cake out of the loaf pan and place it on the wire rack or a plate. Pour the glaze on top of warm cake and let it cool completely.