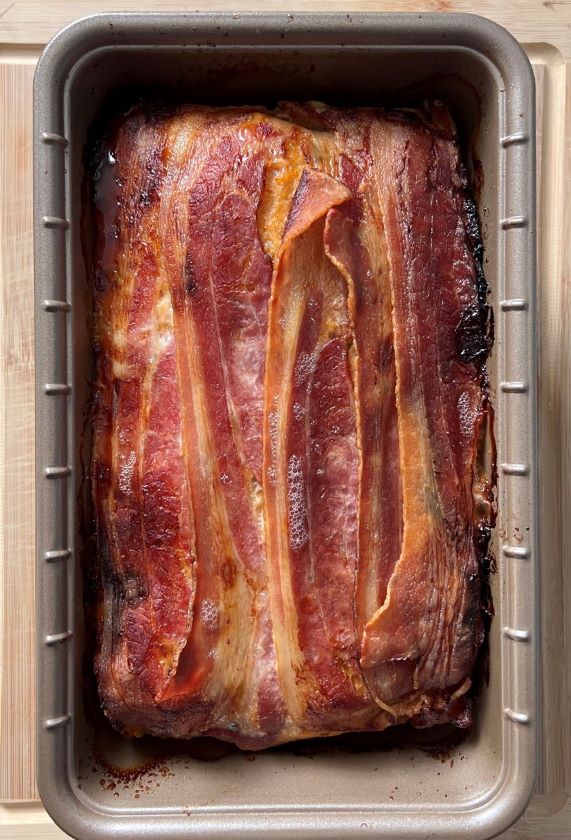 Yields:

8 Servings
Difficulty:

Easy
Prep Time:

15 Mins
Cook Time:

1 Hr 25 Mins
Total Time:

1 Hr 40 Mins
I think this recipe will please many people. The ground chicken has enough fat to make this meatloaf juicy and the seasoning is perfectly matched. I have been making this dish for my family and friends for years and it remains our favorite for all occasions. The recipe provides my preferred combination of seasonings but a few additions will easily suit different tastes. For a little extra color, sauté 1 cup diced (red, green and yellow) bell peppers along with onions and garlic. To achieve a different level of flavor, add 1/4 cup shredded basil and 1/4 cup Pecorino Romano cheese. Also, a tablespoon of fresh herbs like thyme or rosemary will add a different flavor. The whole mixture can be divided into individual loaves or easily doubled. Just make sure to only make the quantity you want to bake.
I do not recommend keeping raw meatloaf mixture on hand.
Heat the oven to 350F. In a medium-sized skillet, warm up oil, add onions and sauté until soft. Add garlic and continue cooking for an additional 1 min. Set aside to cool.

In a large mixing bowl, add cooled onions and the rest of the ingredients (except for the chicken and bacon). Mix well and add chicken. Using a wooden spoon or your hands, combine all the ingredients - do not overmix. The meat will become tough if you overwork it.

Oil a 9x5" loaf pan. Fill it with the meat mixture and smooth it out. Place strips of bacon lengthwise, overlapping slightly. Tuck the ends over the sides of the meatloaf. Bake until thermometer inserted deep into the loaf reads 160F. This should be 60min for smaller loaves and an additional 25-35 min for a large loaf.

Let the meatloaf rest for up to 15 min before slicing it.
Notes
For additional flavor/extra color, sauté 1 cup diced bell pepper (red, green and yellow) along with onions and garlic. When cooled, fold them into the mixture.
Another option - add 1/4 shredded fresh basil and 1/4 cup grated Pecorino Romano cheese.
The simplest flavor change would be to add 1 tbsp of fresh herbs, such as thyme or rosemary.