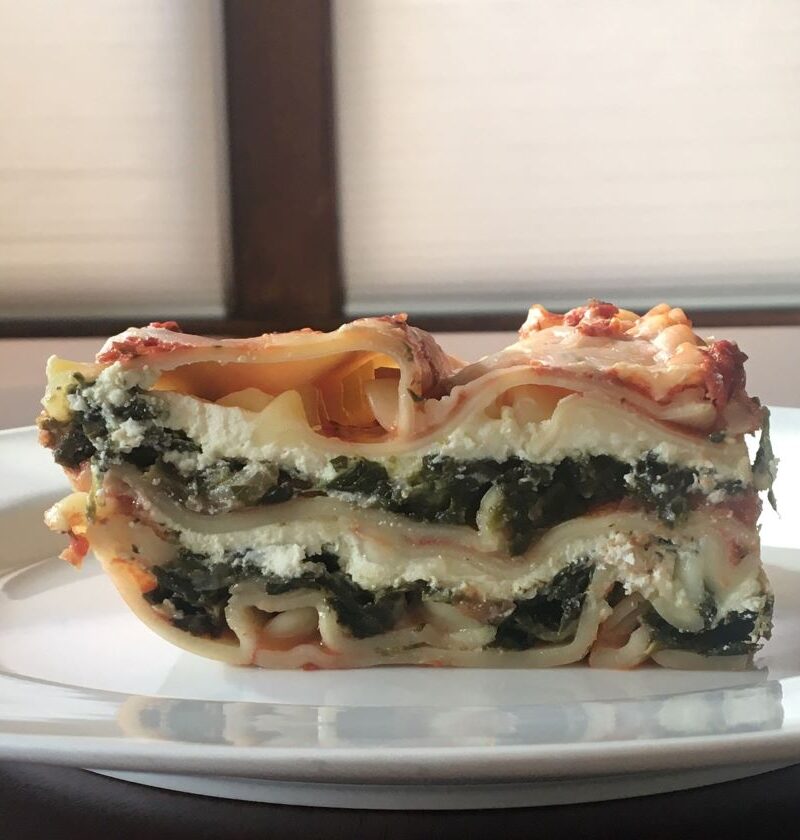 Yields:

1 Serving
Difficulty:

Easy
Prep Time:

20 Mins
Cook Time:

1 Hr 10 Mins
Total Time:

1 Hr 30 Mins
In a large colander thaw the spinach and squeeze out all the water. Set aside.

Fill a wide pot with water, add 1tsp.salt, 1tbsp. vegetable oil and bring to a boil. Add pasta and cook according to the directions printed on the box. Drain and spread pasta on a parchment paper. This will prevent it from sticking.

In a large skillet with a couple of tablespoons of vegetable oil. Sauté onions until soft and translucent. Add garlic, oregano, salt and pepper and cook for an additional 30sec. Add thawed spinach and stir until combined and all the water evaporated.

In a large bowl mix ricotta, Pecorino Romano, egg and season with salt and pepper.

In a 9"x13"baking dish, spread a small amount of tomato sauce and layer 5 lasagna noodles, slightly overlapping each other. Spoon over a thin layer of tomato sauce and top it with half of the spinach, followed by half of ricotta mixture. Sprinkle with one cup of mozzarella cheese. Repeat this whole process one more time and top your dish with the last layer of lasagna noodles sprinkled with one cup of mozzarella cheese ( or 1/2 cup mozzarella + 1/2 cup of Swiss cheese.)

Cover with aluminum foil, place on a cookie sheet and bake for 45-60min. Take away the aluminum foil, the dish should bubble. Continue baking uncovered for additional 15-20min. or until the cheese browns a little. Let cool for about 10min., slice and serve.
Notes
Parmesan cheese could be used instead of Pecorino Romano.
The spinach mixture should be seasoned generously otherwise it will be very bland. Do not season ricotta mixture too much. Both cheeses have salt in them.
To prevent aluminum foil touching the food, a piece of parchment paper can be fitted under the foil, directly on the food.