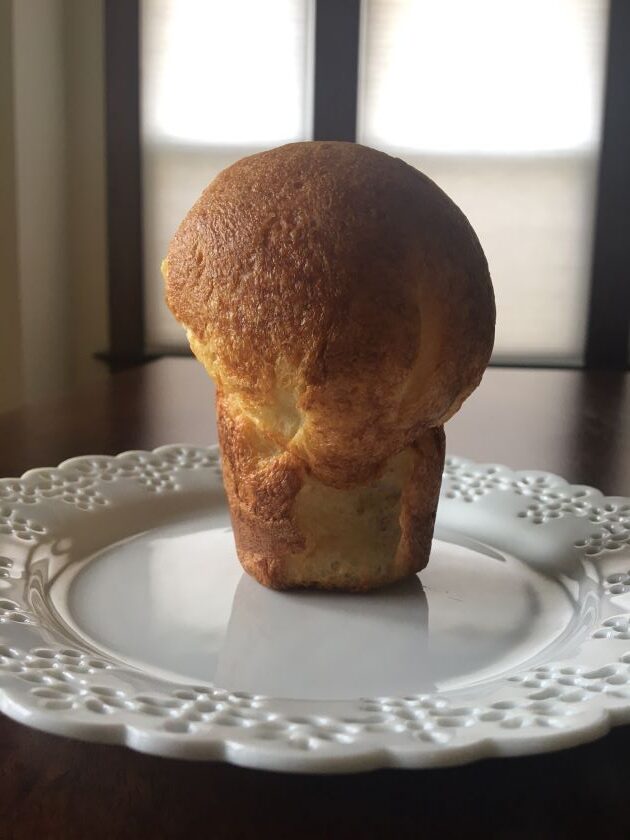 Yields:

12 Servings
Difficulty:

Easy
Prep Time:

5 Mins
Cook Time:

35 Mins
Total Time:

40 Mins
Preheat oven to 400F. In a large bowl, whisk eggs and lukewarm milk. Add melted butter and continue whisking. Add flour and salt. Keep mixing until all ingredients blend well and there are no lumps visible. The batter should be silky smooth. Set aside and let rest for about 5-10 min. Do not omit the last step. Popovers will not rise well without it.

In a meantime, generously grease (using soft butter) popover tins. If you do not have popover tins, use large muffin tins or custard dishes. Pour 1/4 cup of batter into each tin. There might be a little bit of leftover batter, distribute it evenly among all the tins. Transfer popovers into the hot oven. Bake without opening the oven for 30-35 min. Take the popovers out and enjoy right away.
Notes
Two most important elements of this recipe are preheated oven and lukewarm milk. Cold milk will make popovers dense and they will not rise as high. There is also a necessary step at the end, to let the batter rest before baking. It allows the gluten to relax and starch grains to swell resulting in much more light and fluffy popovers.
Here is a link to Nonstick Popover Pan I recommend. You will need two pans to make this recipe.