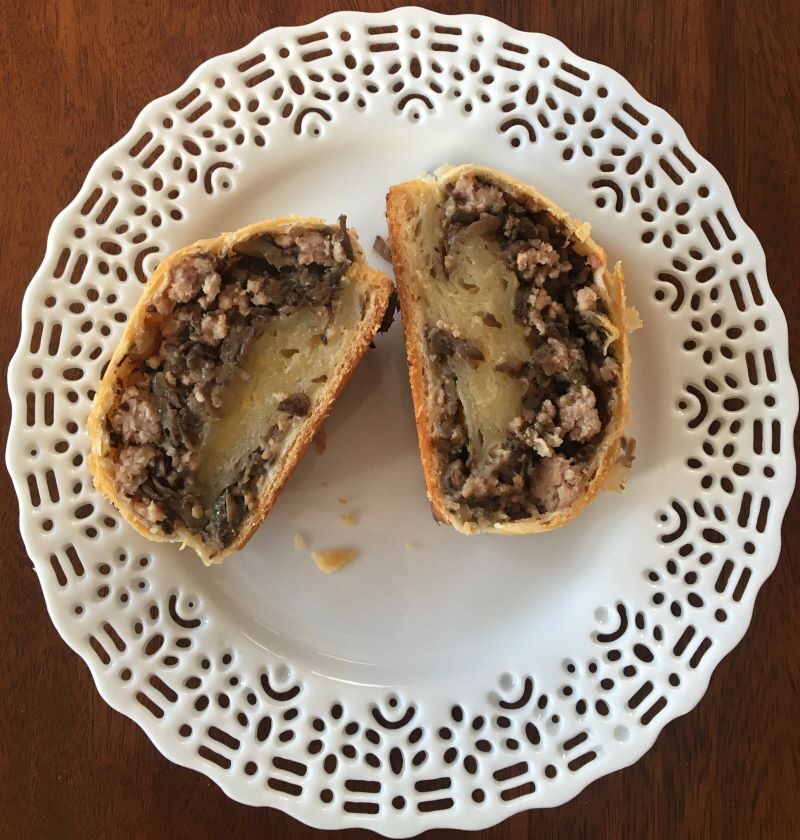 Yields:

10 Servings
Difficulty:

Easy
Prep Time:

30 Mins
Cook Time:

50 Mins
Total Time:

1 Hr 20 Mins
Defrost your puff pastry and keep it in the fridge. Grate the mushrooms and small dice the onion. Add some oil and saute the onions until soft and glossy. Put aside. Using the same frying pan, add some oil and saute the mushrooms until all the water evaporates. Add to the onions. Using the same frying pan add some oil and saute the meat. Mix onions, mushrooms, bread crumbs and meat. Season with salt, pepper and marjoram. Set aside. Preheat the oven for 375F.

Dust your table with flour and unfold one sheet of puff pastry. Using a rolling pin, roll until the dough stretches to about 1/4 of its size.

Take half of the filling and spread it evenly on the rolled pastry sheet leaving a one inch margin on all sides. In a small bowl crack the egg and beat it it with a fork until well mixed. Brush all four sides of the pastry with the egg. Fold in the opposite sides of the pastry.

Follow with one of the opposite sides.

Start making the roll. Make sure the edges stay aligned.

Place the roll on a parchment paper covered baking sheet and repeat the steps making the second Kulebiak.

Crack one egg into a small bowl. Whisk it until the white and the egg yolk mix completely. Using a pastry brush spread the egg all around the Kulebiak. Bake until golden brown for about 50 min.
Notes
This dish can easily be made into a vegetarian dish. Just substitute the meat with one pound of shredded cabbage. Saute the cabbage in vegetable oil with a little bit of water (about 1/3cup). Cover and make it cook on a small flame for about 15min, until it is soft. Uncover and let cook until the water completely evaporates. Season with salt and pepper and mix with onions, mushrooms and bread crumbs.