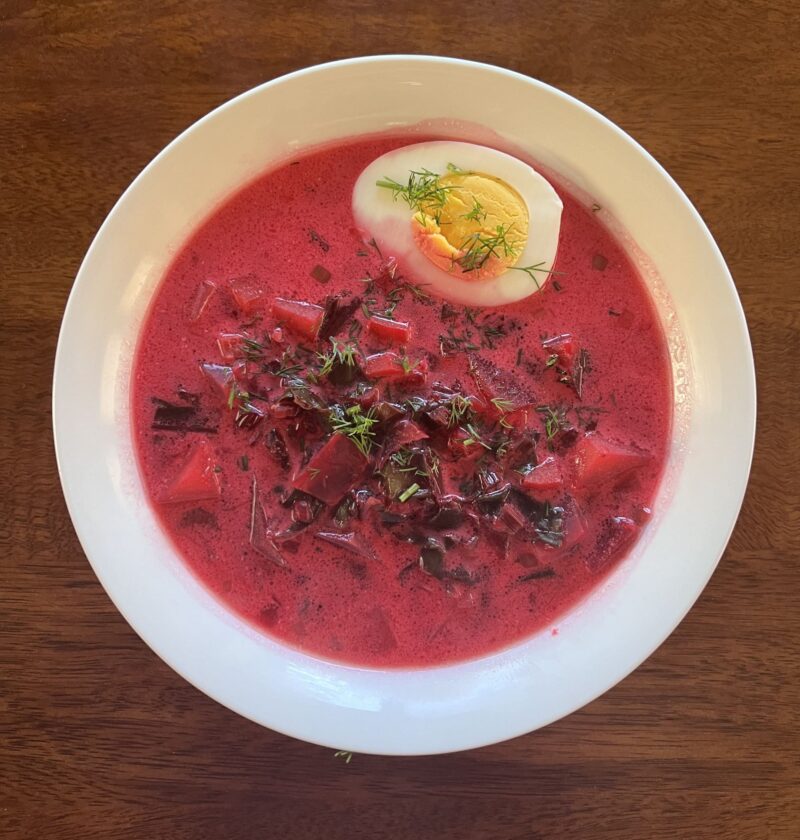 Yields:

8 Servings
Difficulty:

Easy
Prep Time:

10 Mins
Cook Time:

1 Hr
Total Time:

1 Hr 10 Mins
Polish beet soup, or Botwinka, is a tasty and nutritious dish that's traditionally made in the spring or early summer, using young beets and their greens. The combination of beets, beet greens, broth, and other veggies creates a unique and delicious flavor. Let's not forget the added protein from the hard-boiled egg that turns it into a filling and satisfying meal.
These days, the supermarkets sell beets with greens all year-round. You should use the smaller beets with fresh leaves to make this soup at any time of the year.  I enjoy eating Botwinka in cold months as it provides great nutrition and comforting taste. Not to mention, it is quick and simple to make.
You can eat this soup for lunch or dinner, served with hard-boiled egg and potatoes. When I make it for lunch, I usually dice the potatoes and cook them with the soup. A dinner version might include mashed potatoes served on the side or added directly to the soup bowl. It could also be served with fried potatoes (my favorite), which add a crunch that enhances the overall experience. Moreover, the variety of potato options allows for customization and added excitement to the dish.
I recommend checking out my other beet soup recipe:
Start with making the bouillon. In a large sauce pan, add chicken, water, and bouquet garni Bring to boil, using a slotted spoon, skim the foam (fat) from the broth. Lower the heat, cover, and cook for 30-40 min. Omit this step if using a store bought broth.

Prepare all the vegetables. In a small frying pan, add 1-2 tbsp of neutral vegetable oil. Toss in diced onion and sauté until almost soft. Add leeks. Continue cooking until leeks are soft but not browned.

Go back to bouillon. Remove chicken and bouquet garni. Add fried onions, leeks, and diced beets. Cover the pot and cook for about 15 min. Add carrots, beet stems, potatoes and beet leaves. Cook for an additiona 10-15min.

Turn off the heat. Let the soup cool down a little. Add heavy cream and season with salt, pepper, sugar and lemon juice. Serve with half of a hard-boiled egg garnished with chopped dill.
Notes
I generally do not recommend using vegetable broth for this soup. Meat broths add base and substance. If using a vegetable broth, please add 2-3 tbsp of unsalted butter. Store bought broth volume is usually 4 cups (0.95 l). You will need to add 2 more cups of broth or water.