Yields:

8 Servings
Difficulty:

Easy
Prep Time:

20 Mins
Cook Time:

1 Hr
Total Time:

1 Hr 20 Mins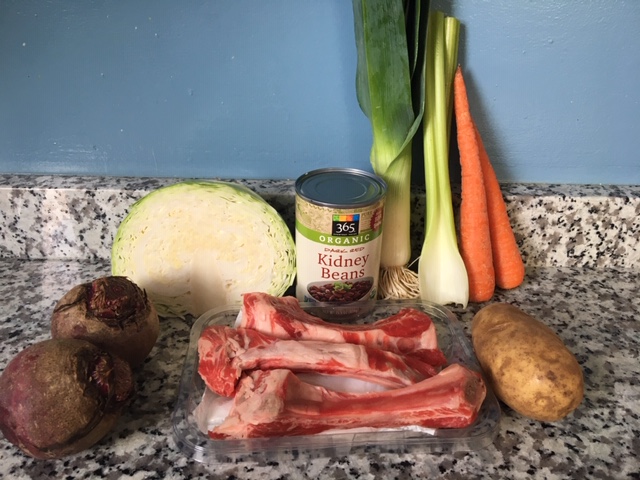 Start with making the beef broth. Any bones will be good for making this soup, but beef bones will best complement the flavor of borscht. On a medium flame, bring water with the bones to a boil. You will notice that there will be a foam (fat) forming on the surface of the water. Using a sieve skim the surface. This will assure the clear consistency of your broth. With the flame on low, repeat the process one or two more times or until the foam stops forming. Raise the flame to a medium low and let the broth cook for about half an hour.

In the meantime, shred the cabbage and dice the vegetables. Make sure to only dice the white part of your leek. Fold the green parts in half and tie them (with a cotton tread or a kitchen twine). Throw them into your soup. They will add flavor and can be discarded later. Keep your diced potatoes in a bowl of cold water to prevent discoloring.

After the broth is ready, discard the bones and season it lightly with salt and pepper. Add all the vegetables except potatoes and beans. Let the soup simmer for 20min. Add potatoes and beans and cook for additional 5-10min. The potatoes cook fast. You need them to be only tender but not overcooked (mushy).

Let your soup cool a little before the final seasoning (pepper, salt, white vinegar). If you adjust seasoning while the soup is hot, you might overdo it. Finish the seasoning with a couple of pieces of unsalted butter (1-2 tbsp.). This will add flavor. Serve with a dash of sour cream.