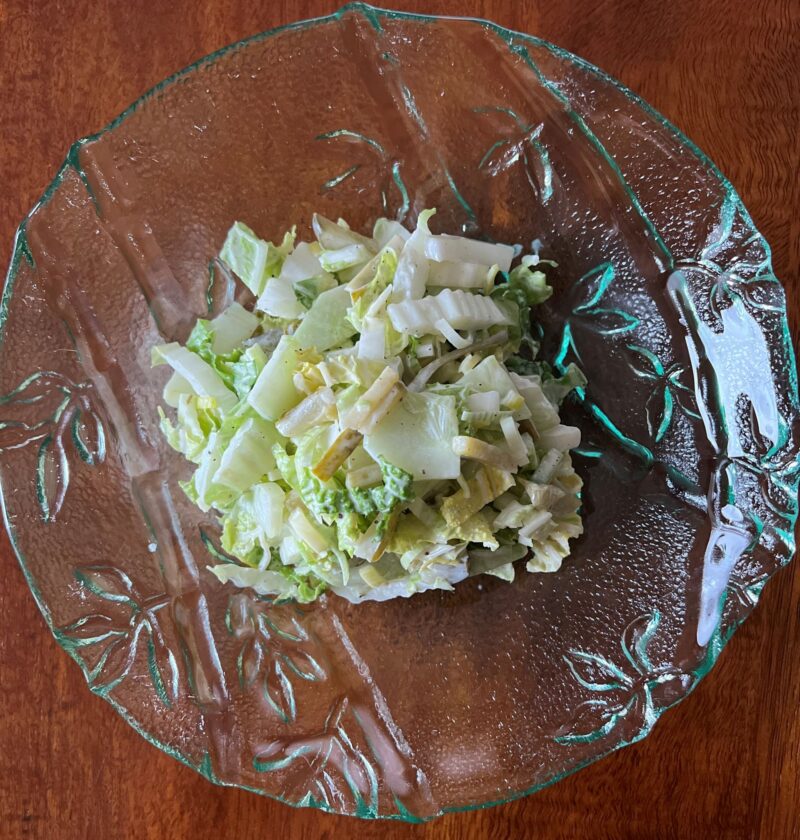 Yields:

1 Serving
Difficulty:

Easy
Prep Time:

10 Mins
Napa cabbage salad with leeks and pickles has a savory taste.  It is delicious served with any kind of meats, sandwiches etc.  This salad is opposite in flavor to the first Napa cabbage salad I introduced on this blog:  Napa Cabbage Salad with Carrot and Apple
The taste is original, sour and salty with a bit of sharpness added by the scallion and the leeks. The salad is very light and quick to make. There is no need to make a separate dressing as all is mixed in one bowl. This is a lovely variation on a simple everyday salad.
These two Napa cabbage salads are very popular in my family and guests. Nobody expects such interesting flavors coming from so few humble ingredients.
Cut the Napa cabbage in half and shred it. Set Aside. Thinly slice the leek, place it on a strainer and run boiling water over it. This will soften the leek and make it more mild. Set aside.

Peel and slice the cucumber. Add a bit of salt and place slices on a strainer. The salt will make the cucumber watery. Pat it dry.

Cut the pickles into short strips. Thinly slice the scallion or chives.

In a large bowl place all the ingredients. Add 2 tbsp of mayonnaise, mix well. Adjust seasoning and serve.