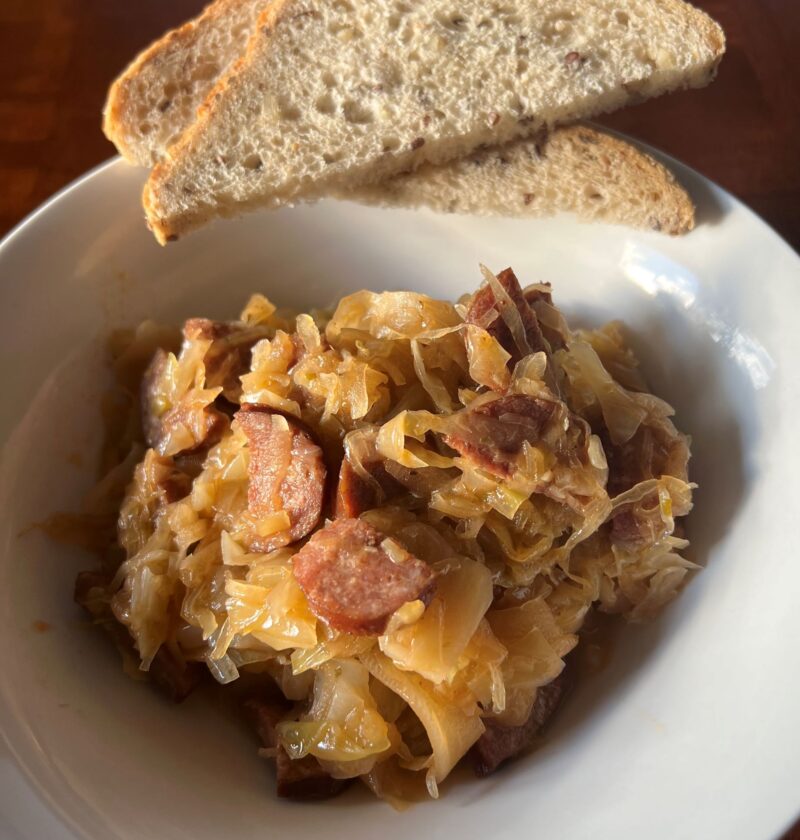 Yields:

10 Servings
Difficulty:

Easy
Prep Time:

20 Mins
Cook Time:

1 Hr 10 Mins
Total Time:

1 Hr 30 Mins
Hunter's stew, or Bigos as it is called in Poland, is a national Polish dish. It is very popular, and almost every family prepares it in their own way. All versions of Bigos have two main ingredients: sauerkraut and fresh cabbage. The rest varies and can include fresh and cured meats, kielbasa, dried mushrooms, prunes, onion, and spices (laurel leaves, marjoram, bay leaves).
My everyday version is simplified with using only kielbasa, omitting mushrooms or prunes but enriching the stew with sautéed onions, tomato sauce, butter, and spices. All cooked on a low flame for at least an hour or more.
One of the reasons why hunter's stew is so popular among families is because its taste improves with time. This dish gets more flavorful when it is warmed up and cooled multiple times, even freezing will improve the flavor. Adding leftover red wine is another way of enriching it. Best served with crusty bread or mushed potatoes.
Cabbage and sauerkraut are very popular in traditional Polish cuisine. Here is a side dish called Polish fried cabbage that is easy to prepare and usually accompanies fried or roasted meats.
Slice the cabbage thin. Set aside. Dice the onion and slice the kielbasa. In a large pot, add 2 tbsp of vegetable oil. Turn on the heat, add onions and kielbasa and let them cook until the onions are soft, and the kielbasa is getting brown. Add tomato sauce, vegetable base, oregano, marjoram and bay leaves. Stir and let cook for one minute.

Add sauerkraut (with all the juice). Add cabbage, stir and cover the pot completely. Let it cook on a low flame for about one hour. Check from time to time, stirring occasionally. Make sure there is liquid on the bottom of the pot. Add 1/4-1/2 cup of water if you need to. At the end of cooking, the stew should be soft and not watery. Add 4 tbsp of butter, stir. Let the stew cool a little, then adjust seasoning.
Notes
When buying sauerkraut, always check the ingredients. There should only be cabbage, salt and water listed on the package/jar. It is OK to use different kielbasa types but they need to have high fat content. If using vegetable bouillon cubes, dissolve them in small amount of hot water before adding them to the stew.