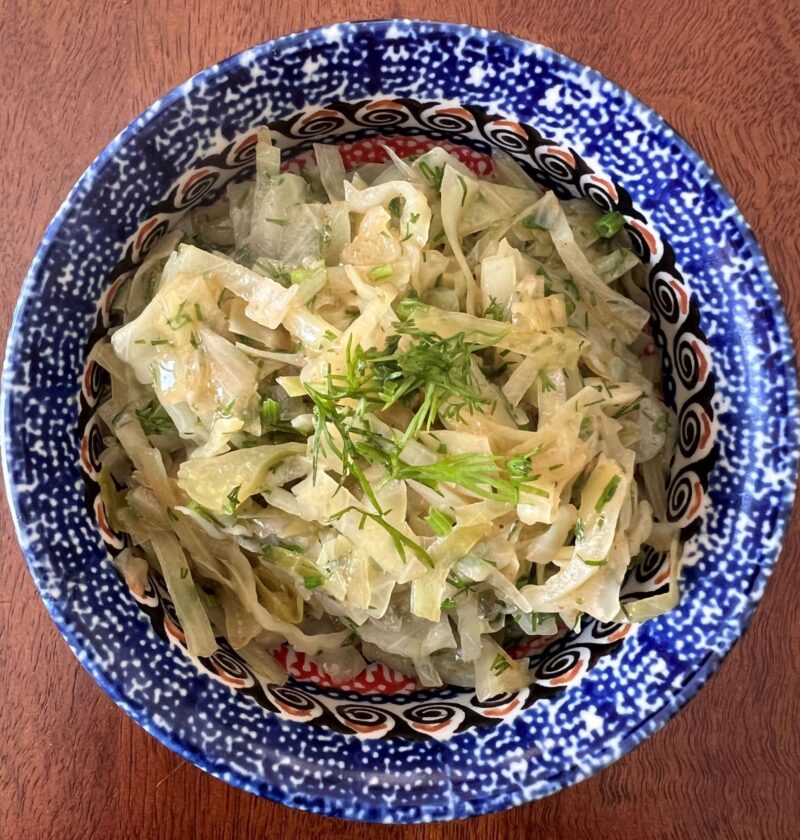 Yields:

1 Serving
Difficulty:

Easy
Prep Time:

10 Mins
Cook Time:

30 Mins
Total Time:

40 Mins
Polish fried cabbage is prepared by stewing shredded cabbage in a small amount of water and then finishing it with a classic roux. This last touch is probably where the name "kapusta zasmażana" (fried cabbage) comes from. The roux (zasmażka) thickens the remaining liquid and makes the cabbage glisten. The dish is finished with a generous amount of fresh dill. This addition makes all the difference. The flavor is light, slightly sweet, and unforgettable. Traditionally, fried cabbage accompanies fried or roasted meats. In some regions of Poland, people make this cabbage with bacon or stewed meat. They serve it as a main dish with a side of mashed potatoes.
Cabbage is healthy and it is very popular in eastern European cooking. This fried cabbage side dish is quick and simple and can be stored in the fridge for up to a week or be frozen for later use. The taste is so mild and sweet that it will satisfy most picky eaters.
I like serving Polish fried cabbage with fried chicken tenders (pictured above).
Here is my recipe for quick chicken tenders
Peel and small dice one onion. Using a large frying pan (with a lid), fry onions (in 2 tbsp of vegetable oil) until soft and translucent. Slice cabbage as you would in order to make coleslaw. When the onions are fully cooked, add 1/2 cup of water or vegetable broth, 1 tsp of salt and a couple of bay leaves. Add cabbage. Stir and cover tightly. Cook over a low flame for 15-20 min.

While the cabbage is cooking, make roux. In a small pan dissolve butter, add flour and stir until no lumps are visible. Let the roux cook (stirring frequently) until foam subsidies and the mixture darkens and starts to resemble peanut butter. Check on cabbage. It should be soft but not mushy. Add roux and lemon juice (if using). Let the dish cook for an additional 1 min. or until remaining liquid thickens and the cabbage starts to glisten. Add chopped dill, stir, adjust seasoning, and serve.