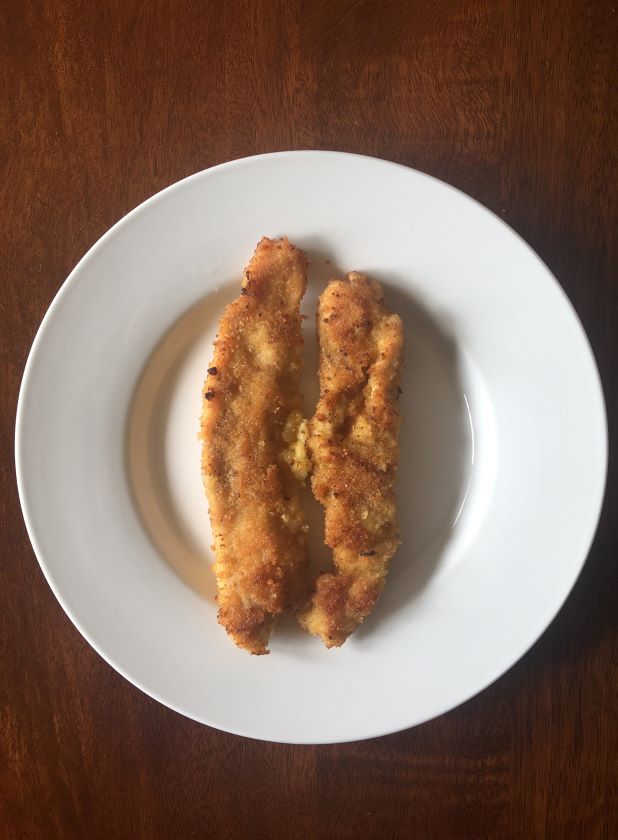 Yields:

8 Servings
Difficulty:

Easy
Prep Time:

5 Mins
Cook Time:

15 Mins
Total Time:

20 Mins
Pound the tenders lightly on both sides. Spread on a cutting board or a large plate. Season on both sides with salt, pepper, garlic and onion powder. Let rest for a couple of minutes.

Prepare egg wash. In a small bowl crack eggs, add water and whisk until completely blended. In a separate bowl add bread crumbs.

In a large frying pan, add 2 tbsp. of vegetable oil. Turn on the heat on medium high. Start assembling the tenders. One by one, dip in egg wash on both sides and coat with breadcrumbs (both sides). Immediately place in the frying pan. Repeat until all pieces are coated and sautéing.

Do not touch or move for a minute or two. Check one, flip only if golden brown. Add some more oil if the pan feels dry. When done, place all the pieces on the paper towel. Serve warm with your favorite side.
Notes
Leftover chicken tenders can be frozen or kept in the fridge for a couple of days. Warm them up in the oven with a dash of butter on top (for flavor).
They are delicious served with a dip or salad.  Also great with baked potatoes or rice.
Here is a great tool for pounding the meat: