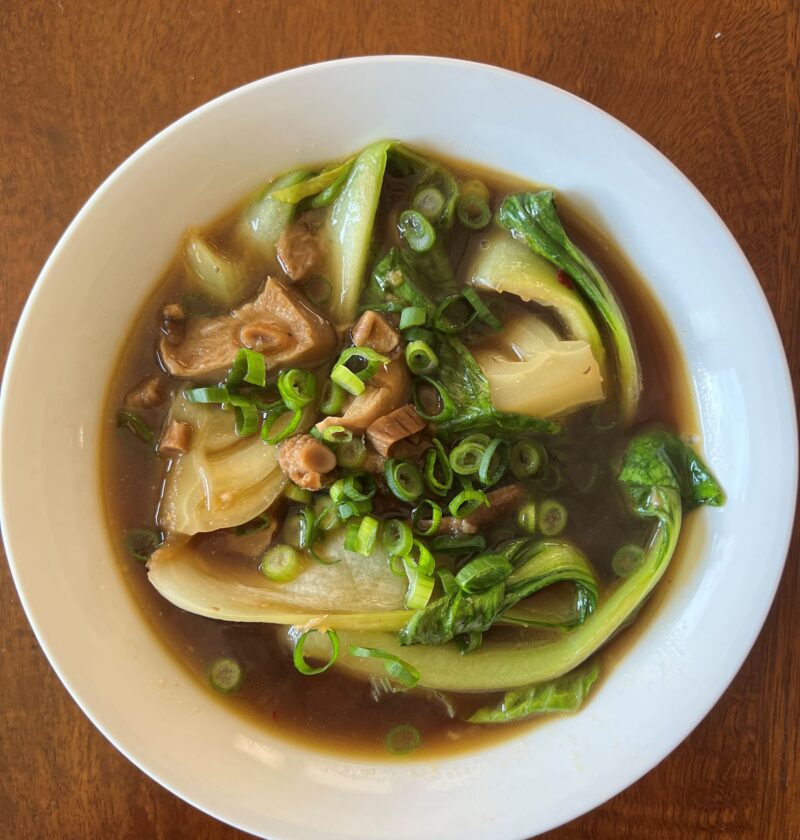 Yields:

4 Servings
Difficulty:

Easy
Prep Time:

10 Mins
Cook Time:

15 Mins
Total Time:

25 Mins
Vegetarian Bok Choy soup is light and full of savory flavor. It is based on a Chinese-style soup recipe with some shortcuts. In this version, vegetarian broth can be substituted with water flavored with Better than Bouillon vegetable base or a vegetable bouillon cube. I also like to use dried shiitake mushrooms and soak them in hot water before cooking. I infuse my broth with leftover mushroom water. In other words, if you do not have fresh mushrooms and/or vegetable broth, your Bok Choy soup will still come out delicious by using these substitutes. Give it a try.  You can also add poached egg or rice noodles to make it more filling. I like the soup best without those additions. Enjoy.
Here is my other Chinese cuisine inspired dish: Scallion Pancakes
Pour hot water over the dried shiitake mushrooms. Set aside for 30-60 min. Take the mushrooms out of the water. Squeeze out the remaining liquid and slice them. Save the leftover mushroom water. Clean and trim baby bok choy. Quarter them lengthwise, set aside. Using a medium size soup pot, heat up toasted sesame oil, add garlic and ginger. Cook for 30sec. Add 1 tbsp olive oil and sliced mushrooms. Sauté for a couple of minutes. Add water (infused with vegetable base and leftover mushroom water) and bring to a boil. Cover tightly with the lid, lower the heat and continue cooking for an additional 5 min. Add 1 tbsp of soy sauce and 1 tsp of umami.

Keep the heat on medium high. Place bok choy inside the pot, stems side down, leaving the leaves out of the broth. Cook for a couple of minutes, until the stems soften. Turn off the heat. Submerge the leaves in the broth, cover tightly with the lid, and let stand for a minute or two. Adjust the seasoning by adding another 1/2 tsp of toasted sesame oil and possibly 1 extra tbsp of soy sauce, if the soup lacks depth. Sprinkle generously with scallions and serve.
Notes
Rice noodles (uncooked) can be incorporated into the hot soup at the moment of submerging the bok choy leaves. They cook very fast and will be ready after 2 min. The egg can be poached while the broth is boiling.