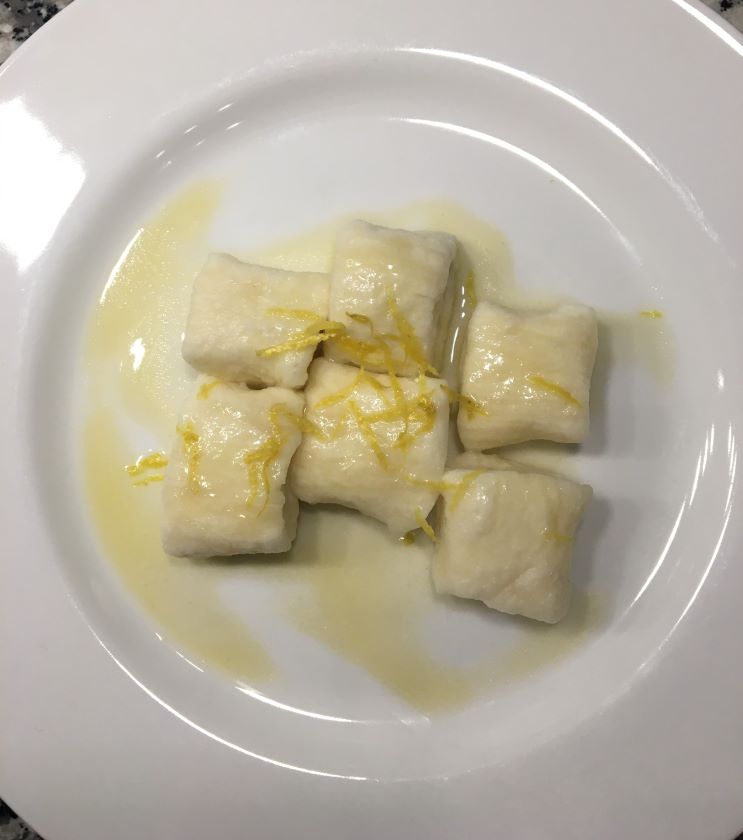 Yields:

6 Servings
Difficulty:

Easy
Prep Time:

5 Mins
Cook Time:

15 Mins
Total Time:

20 Mins
In a large bowl, mix together ricotta, egg, 1/2 tsp. salt. Add 1/2 cup flour and fold it in gently using a rubber spatula.

Turn this quite wet dough out onto a lightly floured work surface and sift the remaining flour over the top. Knead lightly just until dough comes together. The consistency should become firmer and less wet. Divide the dough into 4 equal pieces.

Roll each piece into a log about 1 inch thick . Using a sharp knife, cut each log into 1 inch pieces. In a meantime, bring a large pot of salted water (1 tsp. salt) to a boil.

While the water is getting hot, prepare the sweet sauce. In a small pot, set on a small flame, add sugar and water. Cook until the sugar dissolves then add butter. Stir and continue simmering until butter incorporates and the sauce thickens a little. Turn off the flame.

Turn your attention back to the dumplings. When the water starts to boil, gently drop the dumplings into the water. Do not stir, cook until the pieces float to the surface. Lower the heat and cook for an additional 5min. or until the inside of the dumpling cut in half (to test) is no longer raw. Do not overcook as they might fall apart or become rubbery.

Using a strainer, fish out all the dumplings. Transfer to a serving plate. Pour a tablespoon or two of the sauce on top of the dumplings and sprinkle with the lemon zest (if using).