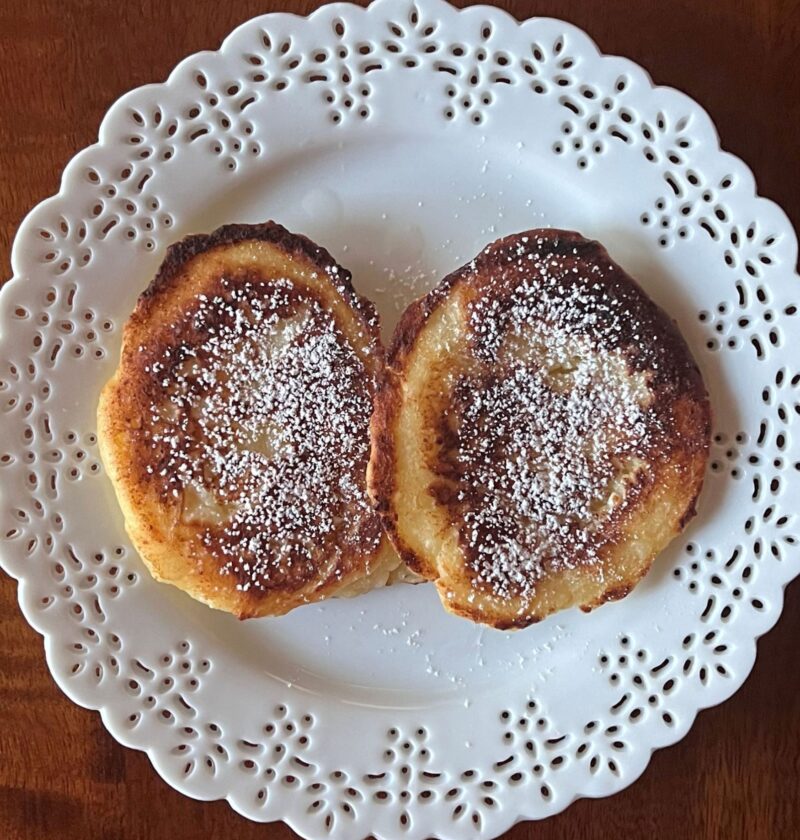 Yields:

16 Servings
Difficulty:

Easy
Prep Time:

2 Mins
Cook Time:

10 Mins
Total Time:

12 Mins
Ricotta pancakes are light, fluffy, crunchy on the outside, and soft (almost custard like) and delicious on the inside. They originate from Ukraine and are traditionally made with farmer's cheese. Making them with ricotta cheese provides a little bit lighter and less-dense texture. These pancakes are super quick to make and have a unique flavor from using large amount of ricotta cheese compared to the amount of flour. They are made out of only five ingredients and are a perfect alternative to traditional pancakes.
There are several ways of serving these pancakes. The most traditional (my favorite) way would be to dust them with confectioners sugar or to top them with honey. They can easily be served without any toppings. Some people prefer not to add sugar to the batter but instead use more topping or add fruit on the side. Garnishing them with chocolate syrup is another less traditional,  but delicious way to serve them.
In a large bowl add all the ingredients. Using a spatula, mix everything thoroughly until no lumps are visible. Turn the heat on medium high. Use a large, nonstick frying pan. Add 2 tbsp of oil and let it warm up. Using a soup spoon (tablespoon), drop the pieces of butter one by one into the pan. Let the pancakes fry for a minute or two or until the outside gets nicely browned and crispy. Add more oil if necessary. Flip the pancakes and continue frying until they look ready. Serve immediately.