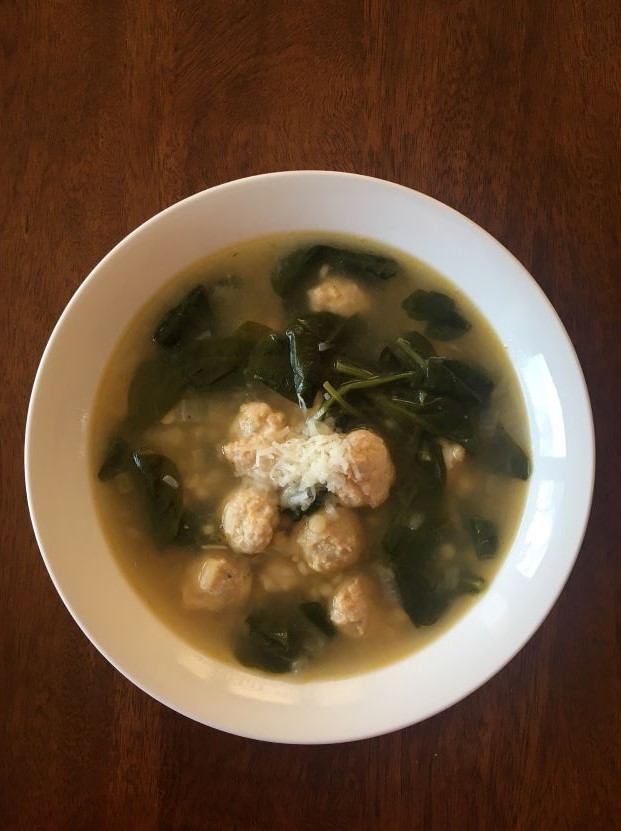 Yields:

6 Servings
Difficulty:

Easy
Prep Time:

5 Mins
Cook Time:

30 Mins
Total Time:

35 Mins
Dice the onion. In a large soup pot dissolve butter, add oil and onions. Saute until translucent and soft.

Add water and bouillon. Bring to a boil. In a meantime prepare meatballs. Combine chicken, salt, pepper, bread crumbs and egg. Using a melon baller tool (dipped in cold water, each time) start making small meatballs. Lower the heat.

Drop meatballs one by one into the soup. Let them slow cook for 10-15 min. They will provide the essential flavor for the broth. Add pasta and cook for an additional 10 min. At the end add fresh baby spinach. Let it wilt in the hot soup. Do not overcook the spinach as the leaves will disintegrate. Let the soup cool before adjusting the final seasonings. Serve with a dash of grated Pecorino Romano or Parmesan cheese.
Notes
Any ground meat can be used for this soup. When using chicken, do not buy ground chicken breasts as they have less fat. Flavor in large part will come from the meat fat.
Escarole or kale can be used instead of spinach.
Always add final seasoning when the soup is cool.
Here is a melon baller tool Melon Baller