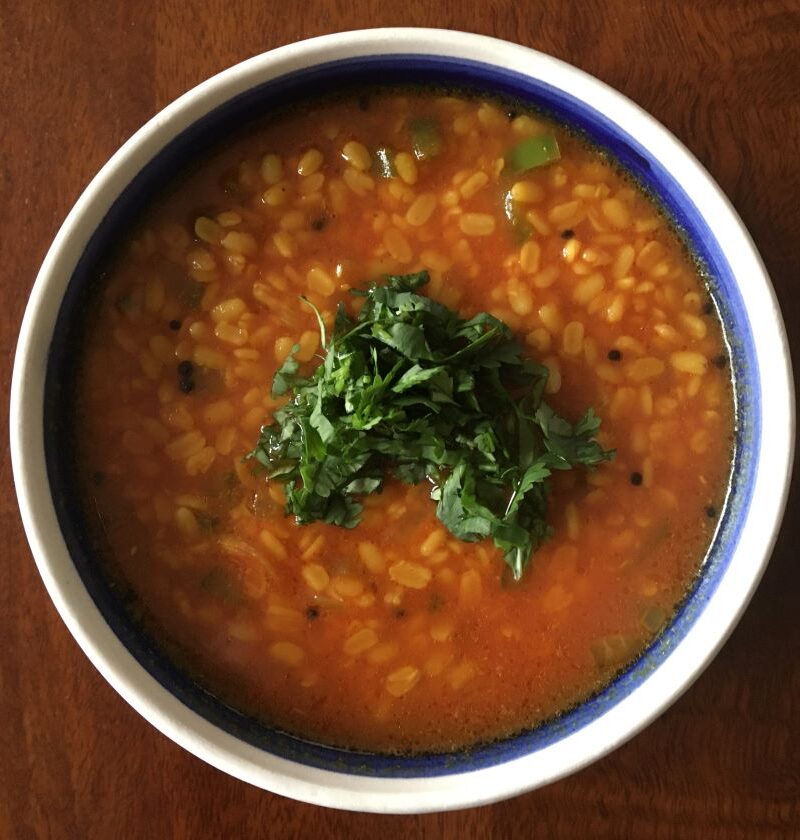 Yields:

6 Servings
Difficulty:

Easy
Prep Time:

5 Mins
Cook Time:

20 Mins
Total Time:

25 Mins
In cold water rinse the Moong Dal. In a medium saucepan add 3 cups of water and freshly rinsed dal. Bring to a boil. Lower the heat, cover and simmer for 10-15 min. or until tender.

In a separate saucepan, heat up 3 tbsps. of vegetable oil. Add mustard seeds and cook until they stop making a popping sound. Add onions and green chilies (diced). Sauté until soft. Add garlic, salt, cumin and turmeric. Continue cooking for 30 seconds. Add tomato sauce (or diced tomatoes if using). Lower the heat and cook for additional 3-5 min.

When the sauce is ready, add dal with all the cooking liquid. Mix well and cook for additional 3-5 min. Serve hot, garnished with cilantro.
Notes
Moong Dal are available in health stores and Indian stores. They are usually inexpensive. All the spices and Moong Dal are also available online:
Moong Dal
Mustard Seeds
Cumin
Turmeric
Red Chili Powder
To skin a fresh tomato, submerge it in boiling hot water for 5min. Take it out, cool and peel off the skin.