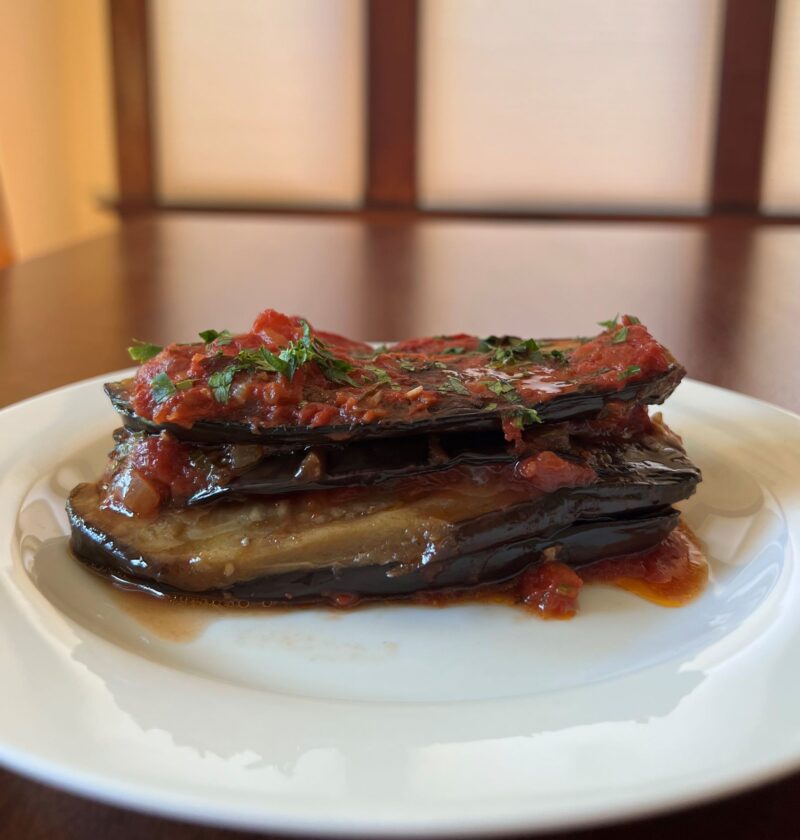 Yields:

6 Servings
Difficulty:

Easy
Prep Time:

20 Mins
Cook Time:

1 Hr
Total Time:

1 Hr 20 Mins
Eggplant can be intimidating and certainly hard to incorporate into a family menu. I think I found a solution: this uncomplicated and mouth watering recipe. Eggplant in tomato sauce originates in Turkey, but it is also found in Greece. This recipe can be made ahead of time as the flavors intensify while resting. I first came across it at a small health food store with a tiny hot bar specializing in Mediterranean cuisine. I have never before tasted eggplant made this way: casserole like setting but no cheese, bread crumbs or flour. Needles to say, I was blown away by it.
I like the lightness and pure vegetarian flavor of this dish. It pairs well with meat, can also be served alone or with the addition of rice or noodles.
Wash and slice eggplants. Lightly salt slices and spread them on a flat surface. Let them sit for about 20 min. Using a paper towel, pat dry all the slices. In a large skillet, heat a thin layer of olive oil. Fry the eggplant slices in batches until they are golden brown on both sides. Set Aside.

Using the same skillet, add olive oil and diced onion. Sauté until soft and translucent. Add minced garlic, chili flakes, cinnamon, 1 tsp salt, and 1 tsp sugar. Stir and let cook for an additional 30 sec until fragrant. Add parsley, saving 1tbs for garnish at the end of cooking. Pour in the tomatoes. Stir and let cook until slightly thickened.

Preheat oven to 350F. Prepare oven proof casserole dish. I used 11 x 8.5 inch dish but 8 x 8 inch will be fine too. Pour 1/2 cup of sauce at the bottom of the dish. Evenly arrange one layer of eggplant on top of it. Repeat the process like with a lasagna. Top with a final batch of tomato sauce.

Cover with aluminum foil and bake for 45-60 min. The eggplant should become soft with a reduced amount of sauce. Uncover and let rest for 10min. Sprinkle with the remaining parsley and serve. This dish tastes great warm or at room temperature.