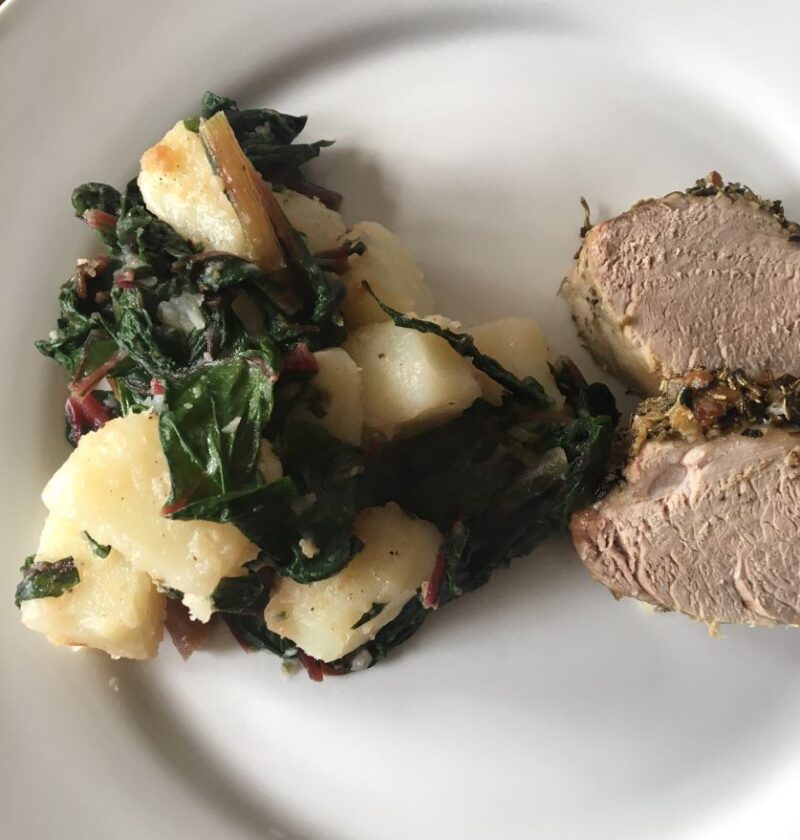 Yields:

4 Servings
Difficulty:

Easy
Prep Time:

5 Mins
Cook Time:

20 Mins
Total Time:

25 Mins
Wash all the leaves and cut off the stems. Discard the stems. Slice the leaves into wide strips, set aside.

Peel the potatoes, cut into 1 inch squares and boil in salted water (1 tsp. of salt) for about 5-10min. Do not overcook. The potatoes should still be al dente and not mushy. Using a strainer, take the potatoes out of the water and place on a plate. Do not discard the water.

With water still boiling, submerge all the Swiss chard and cook until wilted. Put it into a colander and let the water drip away.

In a large non-stick frying pan warm up 2 or more tbsps. of good quality olive oil. Add garlic. There are two ways garlic can be prepared for sautéing. Either peel and thin slice it or peel and mince it. Let the garlic cook for about 30sec. Do not let it brown. Add potatoes and sauté until they start to crisp up. Add chard, stir and cook until soft. Season with salt and pepper. Serve warm or cold.