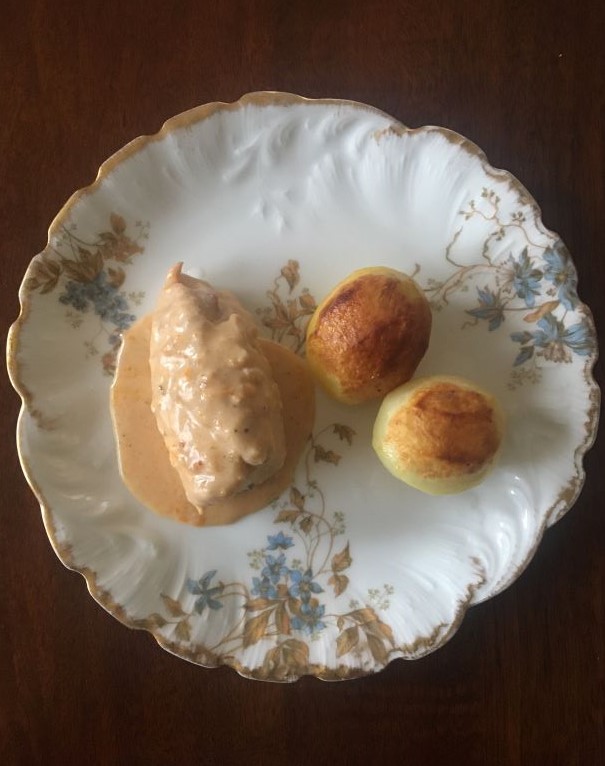 Yields:

8 Servings
Difficulty:

Easy
Prep Time:

15 Mins
Cook Time:

20 Mins
Total Time:

35 Mins
Using a meat mallet, tenderize the chicken breasts. Cut the cheese and ham slices in half. Place a half slice of cheese and a half slice of ham on each breast. Starting with the short end, roll the breasts over the filling. Secure with a toothpick.

In a small bowl mix flour and paprika. One by one coat the chicken pieces.

In a large skillet melt butter. Raise heat and add the chicken. Sauté until the breasts are browned on all sides. Add the wine and bouillon, reduce heat to low, cover and cook for 15 min.

Transfer the meat to a warm plate. Remove the toothpicks. In a small bowl mix the cornstarch and heavy cream and slowly whisk it into a skillet. Cook stirring until thickened. Bring the breasts back to the skillet and coat them with the sauce. Serve warm.
Notes
There are two ways you can assemble the breasts. One is putting slices of cheese and ham on them. The second would be to cut the cheese and ham into strips and place the strips at the front (beginning of the short side) of the breast. This might make rolling easier and more tight.