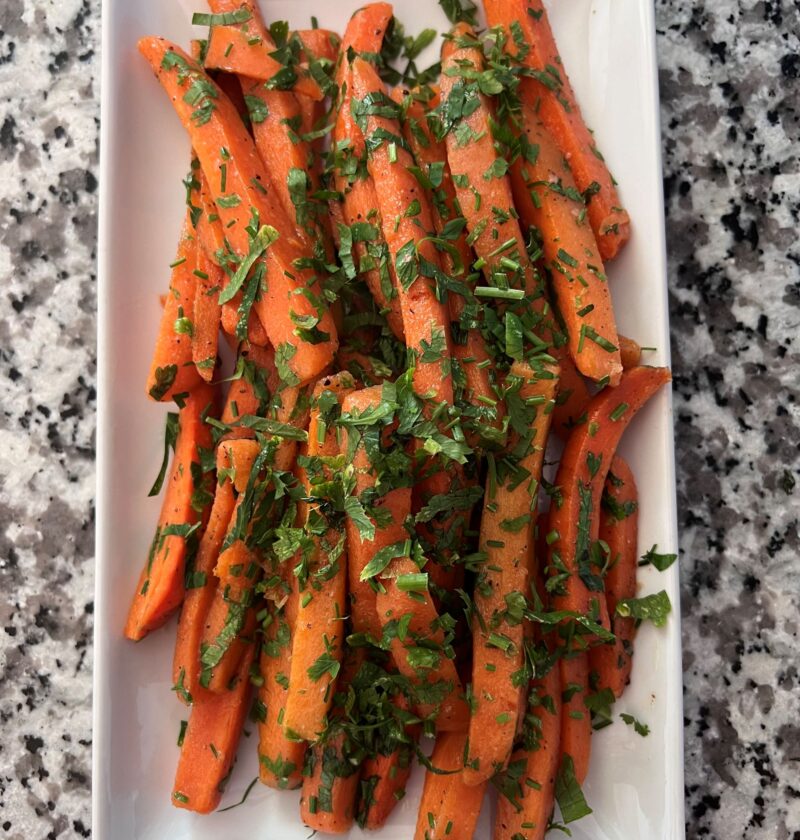 Yields:

6 Servings
Difficulty:

Easy
Prep Time:

5 Mins
Cook Time:

10 Mins
Total Time:

15 Mins
Carrots with butter and parsley are quick to make. They have a bright color and present really well. More importantly, they are sweet, tender, and loved by everyone.
Preparation is swift with peeling, trimming the ends, and either slicing them on the diagonal (1/4 inch thick) or cutting them into sticks. I prefer sticks and I keep them relatively thick (about  1/3-1/2 inch).
In order to cook the carrots quickly and thoroughly, the skillet has to be large enough with a fitting lid. The cooking-through happens in the first part of the process where the water stews the sticks. A tight lid helps to retain water and allows the steam to penetrate carrots quickly.
This simple and great tasting side dish can be partially prepared the day before (peeling and cutting the carrots). Cooking takes only up to 10 min.
In a 10 or 12 inch skillet with a fitting lid, bring carrots, water, butter, sugar and salt to a boil. Reduce heat to medium low, cover and cook for 5 min. Uncover skillet and continue cooking over medium high heat until all the water evaporates (about 1 min). Pierce one carrot with the knife to check for readiness. If they are still hard, sauté or an additional 1-2 min. Season with pepper and sprinkle with fresh parsley. Serve warm.