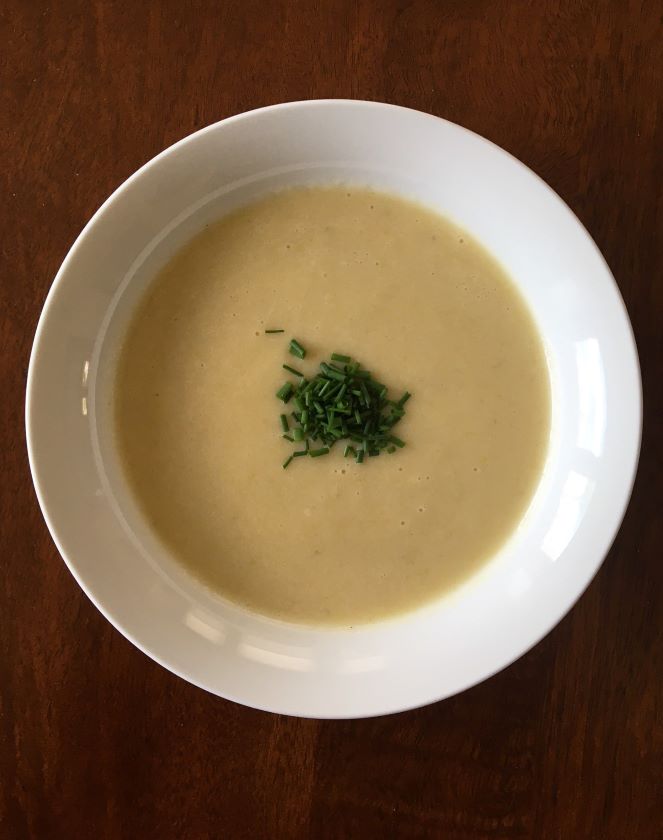 Yields:

6 Servings
Difficulty:

Easy
Prep Time:

10 Mins
Cook Time:

20 Mins
Total Time:

30 Mins
Start with dicing the onion and chopping the leeks. Always choose leeks with long white parts.

In a large soup pot, dissolve 4 tbsp of unsalted butter. Add onions and sauté until soft. Follow up with leeks and cook for an additional 5 min. or until leeks are soft but not browned.

Add 5 cups of water and one tbsp of Better than Bouillon vegetable base (vegetable bouillon cubes work well too). If using broth, omit adding the vegetable base. Bring to a boil and cook for about 5 min. Add potatoes, lower the heat, cook for an additional 10 min. or until potatoes become soft.

Let the soup cool a little. Purée it with a hand-held immersion blender (or in a regular blender) until smooth. Pour the soup back to the soup pot. Add 1 cup of cream (or half and half). Adjust seasoning, stir and bring it back to a boil. Turn of the heat and enjoy sprinkled with chives or other toppings. This soup tastes great cold. In the summer it is often served chilled.
Notes
If the soup comes out too thin, add more potatoes. You can simply boil a potato, mush it and add it to the soup. The texture can also be thickened by dissolving 1 tsp of cornstarch or flour in 1/4 cup of cold water and adding it to the soup while it is still cooking.
This soup can be frozen without the cream.